Roger Federer 'super excited' by Olympics at Wimbledon

By Jonathan Overend
BBC tennis correspondent
Last updated on .From the section Tennis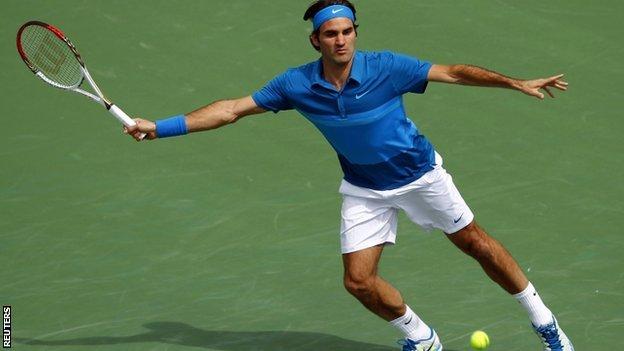 Roger Federer has done the crying, the crashing, the leaping, the knees, the back, the arms, the fists - but best of all was Beijing 2008. The Olympic Games.
Federer, the proud Swiss flag bearer for a second time, was a gold medallist in the men's doubles thanks, in the main (I'm sure he won't mind me saying), to the brilliance in the medal matches of his partner and pal Stan Wawrinka.
As Wawrinka lay on the court, a child-like Federer jigged around with all the excitement of Christmas morning, before warming his hands metaphorically over the body of his "on-fire" partner. If there were chestnuts to be roasted, one imagines the pair had the necessary warmth.
Federer still talks about it as one of his proudest moments. Now he wants more. He wants singles gold at his spiritual home: Centre Court, Wimbledon. And who dare bet against him?
"I think it's going to be helpful that I've won an Olympic Gold already," Federer told BBC Sport. "So I'll feel a little less pressure, although there will be massive pressure on all the players, especially the favourites.
"This is a once in a lifetime opportunity to be playing at Wimbledon at the Olympic Games. It's just a really big deal for us to be living that Olympic spirit, right there, at the most incredible arena we have in tennis.
"It's a big goal for me, there's no doubt about it. This is my fourth time. I don't think there's another player in singles who has played four in this era so I am very happy that I'm able to do this.
"I'm just super excited and can't wait until it comes around."
While he felt "confused" when mixed doubles was granted Olympic status for the first time ("I couldn't believe it was actually happening"), Federer knows tennis warrants its place at the Games.
"I think we have shown enough goodwill to prove that we care so dearly about the Olympic Games," he told me. "It's not always about points and rankings and money.
"What's important is that the players show we love the Olympic spirit, the dream of representing our country.
"I'm happy that we're in the Olympic Games and the more we can prove to the people that we care very dearly, the more I hope everyone's happier about it."
He just won't be playing the mixed doubles.