Andy Murray says Ivan Lendl has made him mentally stronger
Last updated on .From the section Tennis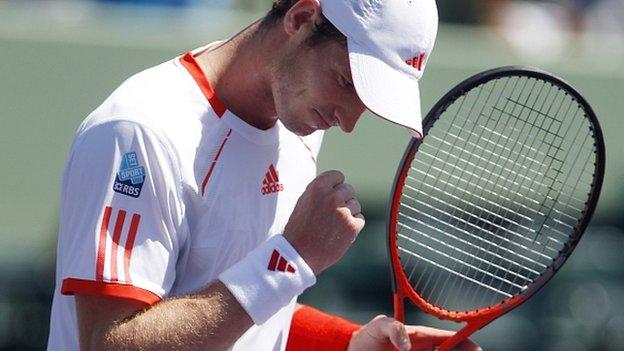 Andy Murray said coach Ivan Lendl had made him a more resilient player after his 6-2 6-3 win over Alejandro Falla in the second round of the Miami Masters.
"Now I'm able to deal with a bad loss a lot better," said British number one Murray, 24.
"Having Ivan around helps, he's been through many of those experiences."
Murray was beaten in straight sets by Guillermo Garcia-Lopez in Indian Wells but bounced back to beat Falla comfortably on Friday.
Lendl, who was appointed Murray's coach in January, was not in Indian Wells but was courtside in Miami.
"A year or two ago there would be a problem or I'd play a bad match and rather than getting the issue sorted out it would drag on for a little while and affect my practice," Murray added.
"As you get more mature you have to deal with it and Ivan knows the right advice to give.
"I obviously ask him questions about what he would have done and how he would deal with certain situations.
"But one of the most important things a coach can do in an individual sport is listen to the player and pick their brains a little bit, about what they're thinking on the court and what they feel most comfortable with in pressure situations. That's something he's been great with.
"He's asked for advice from other coaches because he's never coached before and that was something very refreshing, for such a great player to ask for help."
Murray also revealed the lengths Lendl, an eight-time Grand Slam winner, went to in order to gain an edge on his opponents when he was a player.
Murray, the world number four, said: "Some of them a were little bit strange. He used to practice with John McEnroe and Jimmy Connors's racquets to see how they felt and see what things they could and couldn't do and maybe change some tactics because of that.
"I haven't done that and it's not something I'd do but that's the way he used to think. He had a lot of quirks and he was great because of that."
Murray plays big-serving world number 26 Milos Raonic, who has won two tournaments already in 2012, in the last 32.
"He's got a huge serve - he's serving over 140mph regularly - and he's a tough, tough guy to play against," said Murray.