Maria Sharapova beats Caroline Wozniacki to reach Miami final
Last updated on .From the section Tennis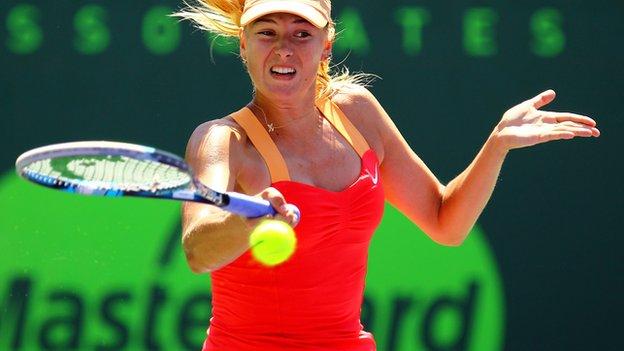 World number two Maria Sharapova advanced to her fourth Miami final with a 4-6 6-2 6-4 victory over an angry Caroline Wozniacki.
The Dane refused to shake the hand of umpire Kader Nouni following a disputed serve at 40-30 in the final game.
The official correctly overturned a linesman's call that Sharapova's second serve was out, but Wozniacki had no challenges left to review the decision.
Sharapova plays Agnieszka Radwanska after she beat Marion Bartoli 6-4 6-2.
Nouni's overrule denied Wozniacki the chance to force deuce in a set in which she had fought back into contention from 5-2 down.
Sharapova had looked poised to challenge the linesman before the Frenchman interrupted.
As Wozniacki had already used the three challenges available to her in the set, she was unable to force the issue and the call could not be reviewed.
"I think when the ball is so close he should give her a chance to challenge at least when I do not have any challenges," said Wozniacki. "She was going to challenge it, anyways.
"So if it shows it is good, it is good. If it shows it is out, it is out. The ball was so close that it might as well have been out."
Wozniacki followed her handshake snub with an angry exchange of words with Nouni as she stormed off the court after her seventh career loss to Sharapova.
"I started off the match so well and then my concentration dropped a little bit and she started playing so much better. But I am happy I pulled it through," Sharapova said after she emerged victorious in two hours and 34 minutes.
Saturday's final is guaranteed a new winner as neither Sharapova nor Radwanska have previously lifted the title.
Radwanska's progress was interrupted during the second set by a power outage that caused a 20-minute delay.
Bartoli, who ended Victoria Azarenka's 26-match winning streak in the quarter-finals, injured her left thigh muscle in the early stages and limped through the rest of the match.
Radwanska, who is yet to drop a set in this tournament, has only been beaten by Azarenka this season.