Elena Baltacha: GB ready to fight for Fed Cup promotion
By Elena Baltacha
Great Britain number one
Last updated on .From the section Tennis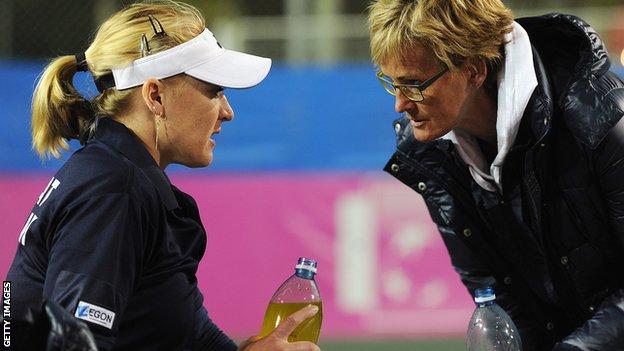 Here we are in Boras, near Gothenburg, getting ready for Great Britain's Fed Cup play-off against Sweden.
My team-mates Anne Keothavong, Heather Watson, Laura Robson, our captain Judy Murray and I came through an incredibly tough week of matches in February in Eilat, Israel, to get to this point and, having done that massive slog, being here feels like the reward.
This is the first time since 1993 that Great Britain's women have got this close to being among the top 16 nations in the world, so, don't get me wrong, we're not satisfied at all.
It's just funny because every other Fed Cup tie I've played in my career has been as part of a massive group of other teams and it took me a while to cotton on to the fact that there is only us and the Swedes here.
I've also never had to play more than one tie in a year before, because we have never been able to get past that first week before - so this all feels quite new and special.
The team gets announced on Friday at the draw and then we will play two singles matches on Saturday, two on Sunday and a doubles match, which could end up deciding everything.
Judy has the option to put me in as the number one player on Saturday against Sweden's Johanna Larsson but, as captain, she can change her selections up to half an hour before each match, so we'll just have to wait and see.
The good thing is that - with Anne, me, Heather and Laura - she has got lots of different options, and both Heather and Laura are more than capable of coming in and doing a job in singles as well as doubles if needed.
It's been really nice to meet up with Judy and the rest of the girls again. I think we all feel that we forged a special bond during that week in Israel and we really pulled together as a team.
From the moment we all got together again on Monday to travel out here it felt very comfortable and we were like a bunch of girls going on a school trip when we got on the bus for the airport, even though all of us travel all the time.
Boras is not a very big place and everyone has been absolutely lovely. We've been venturing out to local restaurants in the evenings and, as usual, there has been lots of banter and good fun with the players and everyone travelling with the team. We went out and tried a few local delicacies last night, including some Swedish meatballs.
The stadium where we're playing has been specially adapted for this tie as it usually hosts basketball and I think the atmosphere will be fantastic when we play our matches.
The players on the bench will need to be giving it loads and if they're not on the court then I expect Heather and Laura to be chief cheerleaders - they were brilliant doing that in our matches in Israel and they'll need to shout twice as loud this time as we're the away side with the crowd against us.
Some of their chants on court are really funny and, away from the tennis, they are forever dancing and singing. It's very entertaining. For Anne and me it's a bit like having two younger sisters around and it's very refreshing because they're both such nice girls.
It will all get pretty serious when we start playing, though, because we have created a fantastic opportunity for ourselves get promoted and play more big ties like this. That would be an amazing milestone for British women's tennis, especially in an Olympic year.
I don't think any of us will be intimidated by the occasion though. All five of us are different personalities but we're all strong characters and we'll all be ready for a fight on court, giving it all for Team GB. That's what the Fed Cup is all about.