Rafael Nadal and Novak Djokovic both win to reach Monte Carlo final
Last updated on .From the section Tennis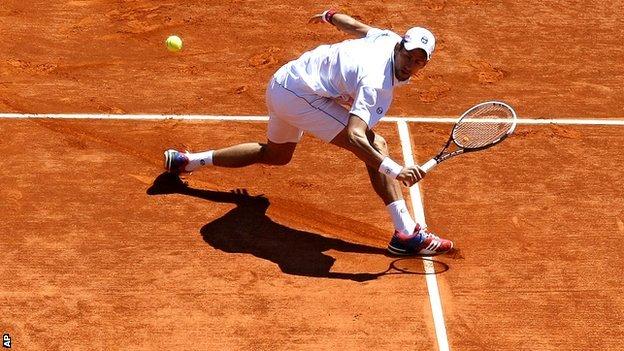 Rafael Nadal and Novak Djokovic will face each other in Sunday's Monte Carlo Masters final after defeating Gilles Simon and Tomas Berdych respectively.
World number one Djokovic saw off Berdych 4-6 6-3 6-2 after struggling with his forehand in the early stages.
Nadal's 6-3 6-4 victory over Simon was a tight contest that featured several typically lengthy clay-court rallies.
Nadal, who has now won 41 consecutive matches at Monaco, is aiming for his eighth straight Monte Carlo title.
Berdych, who defeated Andy Murray in his quarter-final on Friday, claimed a tight first set against Djokovic as blustery conditions made play challenging.
A disgruntled Djokovic, who has played on in the tournament despite suffering the death of his grandfather on Thursday, rallied in the second set.
The Serb world number one then ensured the win in comprehensive fashion, powering past Berdych to reach Sunday's final.
"It's an ultimate challenge," said Djokovic, who lost the 2009 final to the Spaniard. "I need to play well from the first to the last point - I cannot have ups and downs. I cannot afford that against Rafa, but why not believe that I can win?"
Nadal seized early initiative in his semi-final against local favourite Simon, grabbing opportunities to break his opponent's serve while displaying his usual aggressive playing style.
The Spaniard hit 17 winners to Simon's 10, and converted seven break point opportunities to his opponent's zero on his way to an assured win.
Nadal is unbeaten since 2005 in the event, and has reached the 2012 final without dropping a set.
"To be in the final without losing a set, it means a lot to start another clay season with a final," said Nadal. "Now remains the most difficult thing."
The final takes place at 1300 BST on Sunday.