Rafael Nadal secures his eighth consecutive Monte Carlo title
Last updated on .From the section Tennis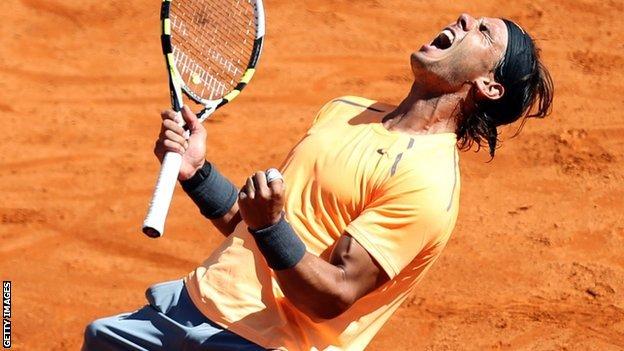 Rafael Nadal won his eighth straight Monte Carlo Masters, beating world number one Novak Djokovic 6-3 6-1.
It was Nadal's 42nd consecutive win in Monaco but only his first victory over the Serbian in eight attempts.
After winning the first set, the Spaniard - who entered the tournament with a troublesome knee - raced to 4-0 in the second.
Off-key Djokovic broke for the first time to make it 4-1 but Nadal hit straight back before sealing the title.
Nadal took only 78 minutes to see off Djokovic, who suffered the loss of his grandfather on Thursday and never quite looked himself.
The Serbian managed just one break point throughout, while the world number two converted five of his eight.
Djokovic won his first service game to love but was broken in the third game of the set and struggled to get back into the match.
Nadal, who will be seeking his seventh French Open title in Paris next month, held his service game to love to race to 4-2 before breaking again in the ninth game to take the opening set.
His domination continued throughout the second, leaving Djokovic feeling he had to apologise.
"I'm sorry for my performance, Rafa played well and deserved to win today," he said.
"I just didn't have any emotional energy left in me. I was there physically, game-wise I was playing OK throughout the week.
"But it was a bad day. If I wanted to have any chance of winning against Rafa on clay, I needed that extra gear, which I didn't have.
"I'm still very happy to reach the finals for the second time.
"This is one of my favourite events at the most beautiful centre court in the world."
The win was Nadal's 47th ATP title and his first since claiming last year's French Open.
"I always loved this tournament, seriously, since I was a kid," he said. "One of my dreams was to play here. It's an historic tournament where you see all of your idols playing.
"To have eight victories, you must be lucky, you have to be in the right way, no injuries, perfect conditions for eight years in a row.
"I had lost to Novak seven times, so losing eight would not have been much different. But to win this one makes a big difference."