Elena Baltacha: GB's Fed Cup loss in Sweden is hard to take
By Elena Baltacha
Great Britain number one
Last updated on .From the section Tennis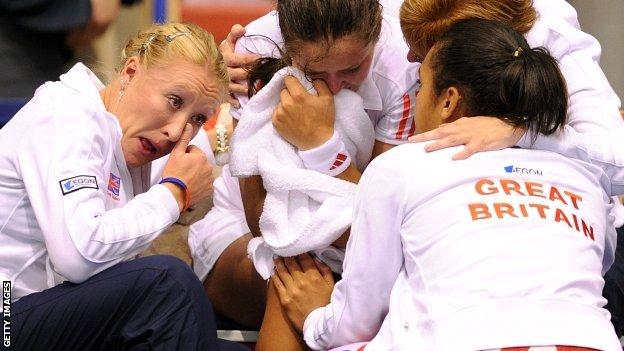 I'm heading home after a tough weekend of Fed Cup in Boras and although I always enjoy playing as part of Team GB, to be honest we're all pretty gutted right now after losing to Sweden.
You have to hand it to the Swedes, they played really well and Johanna Larsson and Sofia Arvidsson - their top two players - are great professionals who have done a lot for women's tennis in their country.
You could see what it meant to them and they both came up with big performances in singles, especially Sofia, who really had to work hard to keep Laura Robson at bay in the third match after Anne Keothavong and I had both lost our matches on day one.
I thought Laura fought really, really hard in that match and we were all chewing our fingernails on the sidelines, willing her to come through. It's obvious how much talent Laura has and she will have learned so much from that match because you always learn way more from defeats, especially the ones that really, really hurt.
Poor Laura was devastated - she even started me off with a few tears afterwards - but I think she knows how proud we are of her.
I have absolutely no problem with our captain Judy Murray putting Laura in ahead of me against Arvidsson on day two because I think it was the right decision and, but for a few points here and there, Laura could definitely have won that match.
No athlete wants to get dropped from a team but I'm a big girl and I can take it because I trust Judy's judgement. All that matters is getting the right result for the team.
I hadn't played much tennis at all over the last few weeks because I've been struggling with a foot injury and I think that showed against Larsson on the first day. I'm not one of those players who can switch my tennis on and off and I just don't think I was match-tough enough. Larsson played a really solid match but I had opportunities and, on another day, I like to think I would have taken them.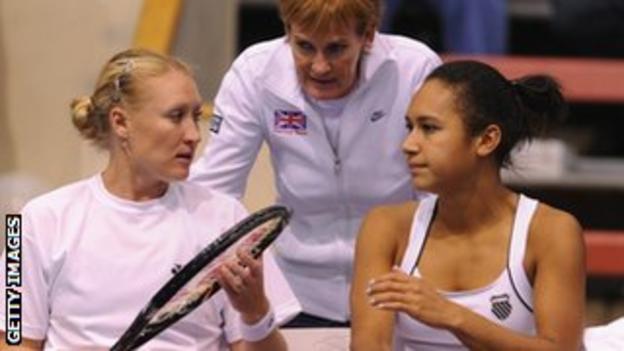 Arvidsson is so experienced and has a massive game, so that was always going to be a difficult one for Anne, but the second set could have gone either way and I'd have liked Anne's chances in a third set. It was nice for Heather Watson and I to at least pick up a point in the doubles to end the tie on a little high. I don't play much doubles but it was pretty relaxed and it's probably good for Judy to test different combinations just in case.
The Fed Cup format means that we are now back to where we started, in a week-long play-off next February, but we'll go back there next year with a lot more confidence as a team.
This weekend - which was the first time Great Britain has been in a promotion tie since 1993 - was a new experience for all of us and it can only help us as players and as a team. We've got a lot going for us - Laura and Heather will only get more experienced and we'll have an even stronger bond as a team after going through so many highs and lows together. I'm already looking forward to February.
The positive thing for me personally is that my foot has held up well over the weekend and that's good news with the clay-court season starting. I've got a run of tournaments leading up to Roland Garros at the end of May and the big goal is to pick up enough ranking points to qualify for the Olympics.
Playing for Great Britain is such an intense experience and even though there are times, like this weekend, when it hurts like hell, I wouldn't swap it for the world.