Wimbledon will increase extra prize money from 2012
Last updated on .From the section Tennis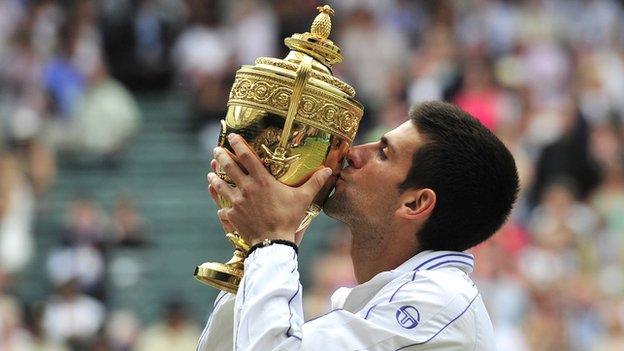 Wimbledon organisers have confirmed the prize money at this year's event will increase by 10%, with the majority directed to help lower-ranked players.
The overall pot will grow by 10% to £16.1m, the largest increase since 1993, with a record £1.15m awaiting the men's and women's singles champions.
But the biggest beneficiaries will be players who lose in the early rounds.
All England Club Chairman Philip Brook said: "We must help players meet the rising costs of professional tennis."
A 26% increase in prize money for first-round losers will see them depart SW19 with £14,500, as opposed to £11,500 last year. There is also a 21% increase for losers in the Wimbledon qualifying event.
There had been rumours of growing unrest among players that the distribution of wealth at Wimbledon, the US Open, the Australian Open and the French Open was too heavily weighted in the favour of the game's leading players.
Defending SW19 champion Novak Djokovic, Rafael Nadal, Roger Federer and Andy Murray, the world's top-four ranked men's players, held talks with All England Club officials at Indian Wells, California earlier this year.
"There was never talk of [strike] action from players in any discussions I have had. We had very professional discussions with all the parties and hopefully it will be received well," added Brook.
"What we have in the top four players is a group of young men who are very responsible for all those around them. We didn't hear a request for more money for them, they wanted something done for the sport as a whole and were representing all the players, not just themselves.
"It is a positive development. When I met the players at Indian Wells we asked for the opportunity to have meetings like that on a regular basis. It can only be good to have dialogue with them.
"We heard genuine concern from top players and tour management that this was an issue and we have reacted to that."