Maria Sharapova beats Victoria Azarenka to win on Stuttgart clay
Last updated on .From the section Tennis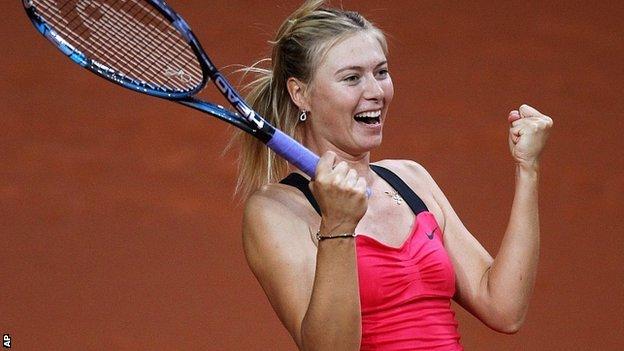 Maria Sharapova strolled to her first title of the year with an easy win against world number one Victoria Azarenka on clay in Stuttgart.
The Russian won 6-1 6-4 in the Porsche Grand Prix to clinch her 25th title, having lost three finals in 2012.
She lost to Azarenka in the Australian Open and Indian Wells finals during the 22-year-old's 26-match unbeaten run.
Azarenka, who has only lost twice this year, was treated for a wrist injury at the start of the second set.
"In such a tough tournament with difficult opponents, it was a good week," said Sharapova, whose victory came in 84 minutes.
"(Azarenka) was injured today, maybe she could not perform well but I am happy to be the champion here this year.
"I was going to use this event as a warm-up (to the French Open) so I did not come much earlier. Maybe I should continue doing it like that."
Sharapova overpowered the Belarussian in the first set, needing just 30 minutes having raced into a 3-0 lead.
Azarenka put up more of a fight in the second, but Sharapova broke to make it 4-3 and then served out to win the tournament on her debut in Stuttgart.
"Obviously I am not happy but congratulations to Maria, she's had a good week here," said Azarenka.
"I had a problem with my wrist and it was bothering me, but it's been bothering me all week. There is not much to say about it, I just got off court and will see what I can do to get it right before Madrid.
"I couldn't really perform, but I am not going to sit here and look for excuses. The world won't stop turning, there will be another tournament."