Novak Djokovic angry at Madrid court after Janko Tipsarevic loss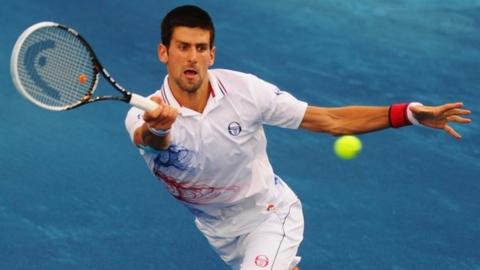 Top seed and defending champion Novak Djokovic again criticised the blue clay court as he was knocked out of the Madrid Open.
Djokovic lost 7-6 (7-2) 6-3 to fellow Serb Janko Tipsarevic and vowed not to play in the competition next year if the controversial surface is retained.
"In 2013, if they play on blue [clay], they can have their own tournament but I am not coming for sure," he said.
"It is simple - no blue clay for me. The test has failed."
Djokovic has been frustrated by the slippery blue courts all week and Rafael Nadal, who was beaten by compatriot Fernando Verdasco on Thursday, had similar complaints after his defeat.
"I want to forget this week as soon as possible and move on to the real clay courts," Djokovic said. "Here you can't predict the ball bounce or movement.
"I want to perform my best but, if I cannot move and am putting pressure all the time on muscles and my body, and I am worried about not getting injured because the court is unpredictable, then what is the sense in playing here?"
Djokovic was also critical of the ATP and says players must be consulted in future before new initiatives are introduced.
"They made a decision without the players agreeing on it so this is a rule that has to be changed immediately," he said.
"The fault is from the people who gave them permission to do these things. This is just a clear example of how our system does not work in favour of players."
Djokovic was particularly critical of former ATP chief executive Adam Helfant, who took the decision to allow Madrid to switch to blue clay in order to make it easier for television viewers to follow the yellow balls.
Earlier on Friday, Helfant said he gave Madrid the green light only after receiving assurances the blue courts would play the same as the traditional red surfaces.
He said he consulted the players and tournament officials and, realising they could not agree, made the decision himself.
Also on Friday, tournament chief Ion Tiriac apologised for the slippery courts but defended the colour switch, which he said had nothing to do with the problems with the court surface.
Tiriac explained that the courts, which have to be built from scratch six weeks before the tournament, had been pressed too much, which meant the clay was unable to penetrate the hard base.
"The players are right when they say it is too slippery and I apologise," he said.
There were no problems for Roger Federer, who was a 6-4 6-4 winner against Spain's David Ferrer, although the Swiss player said he understood the frustrations of Djokovic and Nadal.
"It is a pity we are talking about a surface rather than a great shot or a great match," he said. "After the tournament we will have to sit down and see what happens next year."
Women's world number one Victoria Azarenka made a shaky start before winning 3-6 6-3 6-3 against Li Na.
Azarenka will meet world number three Agnieszka Radwanska, the fourth seed, who beat American qualifier Varvara Lepchenko 6-4 6-4.
Serena Williams made light of the seven ranking places separating her and Maria Sharapova as she eased past the world number two 6-3 6-1.
The American is into the semi-finals for only the second time in five singles events this year and will play outsider Lucie Hradecka who beat US Open champion Sam Stosur 7-6 (10-8) 7-6 (8-6)
Fifth seed Tomas Berdych saw off Fernando Verdasco in the men's draw.
Berdych swatted aside Rafael Nadal's conqueror 6-1 6-2 in just 66 minutes and will play Juan Martin del Potro in the last four after the Argentine beat Alexandr Dolgopolov 6-3 6-4.