Serena Williams beats Victoria Azarenka to win Madrid Open
Last updated on .From the section Tennis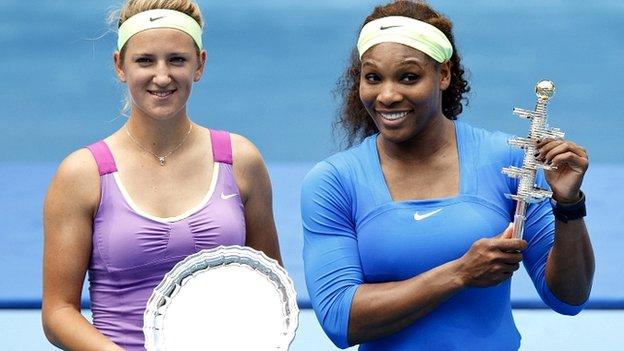 Serena Williams served notice she will be a real threat at the French Open by hammering world number one Victoria Azarenka to win the Madrid Open.
It was Williams' first appearance in Europe this season and she dominated the Belarusian, winning 6-1 6-3.
It took the American just over an hour to win the match and confirm she is in top form ahead of Roland Garros, which starts on 27 May.
Williams extended her winning streak to 13 matches with her 41st WTA title.
And the 30-year-old winner of 13 Grand Slam titles took her head-to-head record against the world number one to 7-1.
Azarenka's only victory came in the Miami final in 2009 but she got nowhere near the American on Sunday, with Williams superior in every department.
The American will rise to number six in the new world rankings.
"My whole thing is just to play consistent and that is what I have been doing the past couple of weeks," she said. "I belong on a tennis court and that's where I feel amazing."
Williams added: "I don't play to be number two, I don't think Victoria plays to be number two. We all play to be the best."
Azarenka admitted that she has plenty to work on despite having won her first Grand Slam earlier this year in Australia and reached the top of the rankings.
"She was just so much better than me today," said Azarenka. "I do need to return a bit better and definitely improve my serve, which today was just a disaster.
"These kinds of matches make you realise you have to take a moment and look at what you can do better."
Williams also had some forthright views when asked about criticism from Novak Djokovic and Rafael Nadal over the apparently slippery blue clay courts in Madrid.
"Women are way tougher than men," she said. "That's why we have the babies, you guys could never handle kids.
"We ladies don't complain we just do our best. On the WTA we are real performers, we are not about going out there and being weenies."