Maria Sharapova beats Angelique Kerber in Italian Open semi-final
Last updated on .From the section Tennis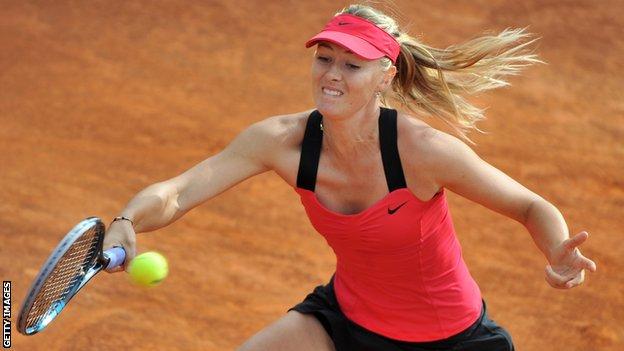 Maria Sharapova continued the defence of her Italian Open title with a 6-3 6-4 semi-final victory over Germany's Angelique Kerber.
The Russian's final opponent will be Li Na, whose tie against Serena Williams was called off because of injury.
Williams was suffering with a back problem but insists she will be fit for the French Open on 27 May.
"I'll be 100% for the French," she said. "I've been feeling a little pain and have a huge schedule coming up."
World number two Sharapova was in dominant form against Kerber, overpowering her opponent with heavy groundstrokes.
She broke Kerber twice in the first set, with the German only threatening briefly when she broke back in the third game.
A powerful forehand winner down the line clinched the set in 42 minutes.
Sharapova took her momentum into the second set, breaking Kerber in the first game.
The 24-year-old German broke back in the fourth with her fourth break point of the game, but Sharapova immediately regained the initiative before holding her serve for victory.
The Russian's victory came in 89 minutes and served as revenge after Kerber had won their last meeting at the Paris Indoors in February.
Li remains the only stumbling block to Sharapova retaining her title but the French Open champion has won four of their last five meetings and will be rested after title favourite Williams pulled out without a shot being played.
The 13-time grand slam winner has complained of back trouble since winning clay titles in Charleston and Madrid.
"I've been playing a lot and my body is getting used to a lot of matches again," added Williams.
"My form is good heading to Paris. I want to be ready for the next couple of months."
Li said: "I was really looking forward to playing against one of the best players ever.
"Of course I'm happy to reach the final but I don't like winning like that. I am so sorry for Serena and hope she gets healthy."