Italian Open: Novak Djokovic v Rafael Nadal delayed by rain
Last updated on .From the section Tennis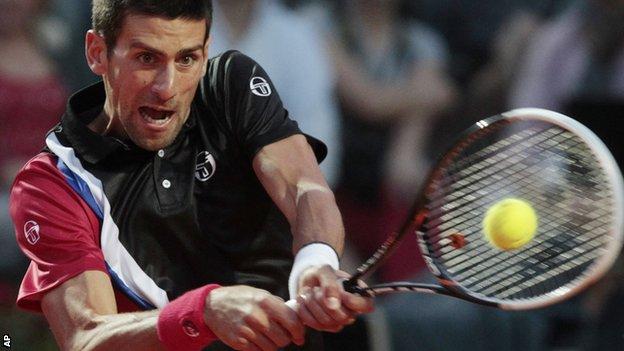 Novak Djokovic will play Rafael Nadal in a rain-delayed Italian Open final on Monday after beating Roger Federer.
The world number one eased to victory 6-2 7-6 (7-4) in his semi-final against the Swiss on Saturday.
Nadal, unbeaten in clay-court semi-finals since 2003, reached the Rome final with a 7-6 (8-6) 6-0 win against Spanish compatriot David Ferrer.
"It was unbelievable how he started - great rhythm, no errors, aggressive and moving well," said Nadal.
"All I could do was try to keep the score close as I thought he could not go on at that level.
"After the first six or seven games, our levels became more equal.
"It is great to be in another Rome final, the final preparation before Roland Garros [the French Open]."
Nadal, five-times winner of the competition, had to come from 3-1 down in the first set to set up his 70th career ATP final.
He was struggling with his backhand, which accounted for 15 of his 20 unforced errors, but once he came through a difficult first set lasting 84 minutes, he raced to victory - failing to drop a game in the second set.
Nadal's incredible record on clay means he will start the final - originally scheduled for Sunday evening but postponed because of persistent rain in the Italian capital - as favourite, but he will be up against a formidable and familiar foe in Djokovic.
The Serbian dominated the baseline rallies to break Federer twice in the opening set.
That pattern continued into the second, until 16-time Grand Slam winner Federer became more aggressive and took it to a tie-break.
It proved too little, too late, however, as Djokovic regained and never relinquished the initiative.