Illness rules Robin Soderling out of Wimbledon and Olympics
Last updated on .From the section Tennis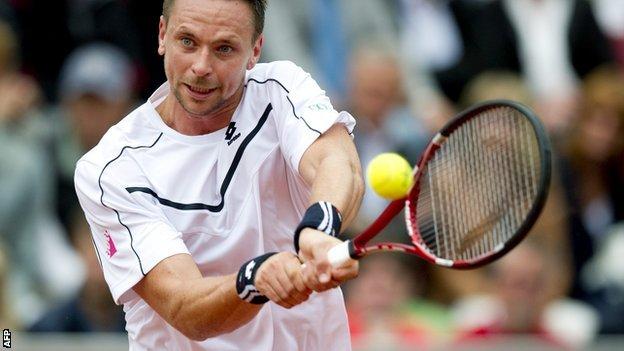 Robin Soderling has confirmed he will miss Wimbledon as he continues his recovery from glandular fever - but plans to make a return.
The former world number four has not played since July last year and has seen his world ranking slip to 56.
He has also ruled himself out of the French Open and the Olympics, yet still hopes to play again in 2012.
"I'm 28 and have plenty of good years left in me," Soderling told BBC Sport.
"I haven't given up on the year. Hopefully, I can come back a little, at an OK level."
The Swede has suffered damage to his thyroid and adrenal glands as a result of the illness, which world number three Roger Federer also battled at the start of 2008.
Despite having no plans to quit the sport for good just yet, he admits the nature of the illness makes it difficult for him to set a return date.
The two-time French Open finalist added: "It's difficult to say because this is not really like a regular injury. Even the doctors have trouble telling me when I can be back. The most important thing is I'm feeling better and better.
"Now I am where I feel pretty good during the days and I can do everything, but training - and especially a little bit more intense training - my body cannot take, I get too tired.
"Then, of course, it's a question of when I can start to train again. I don't know if that's going to be in one month or one year or whatever."
Soderling, who has won 10 career titles since his ATP tour debut in 2001, revealed the view of medical experts has given him cause for encouragement.
"The doctors I've been talking to - especially the doctors who have seen a lot of athletes with these kind of problems - say you will get well, everybody gets well, but it can take a lot of time," he added.
"It's not like I can come back to tennis in five years - that would be too long. I've got to hope I get better sooner rather than later."