French Open: Maria Sharapova & Serena Williams are back on song
Last updated on .From the section Tennis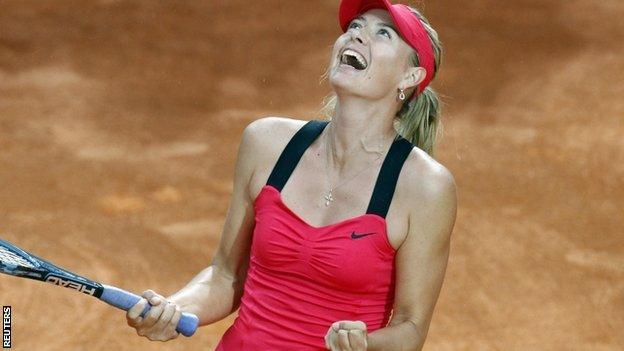 The spectacle of Maria Sharapova tucking away her blonde locks before galloping along the baseline, shrieking and grunting, has once again become familiar on tennis' biggest stages.
On Sunday in the Roman drizzle, she held aloft the Italian Open trophy, her second title of the clay court season, to confirm her return to the pinnacle of the game and demonstrate a consistency not seen since she came back from a career-threatening shoulder injury three years ago.
"I think she's better now than when she was winning slams," former British number one Annabel Croft told BBC Sport. "Her serve and movement is better."
Even though Sharapova's tennis lacked panache at times during a topsy-turvy final in Rome, the 25-year-old was at her combative best against defending French Open champion Li Na, fighting back from a set and 4-0 down to win in a third-set tie-break.
There was a time, in the not-so-distant past, when the world's richest sportswoman looked like she might happily walk away from the grind of the professional tennis tour to enjoy the millions that should sustain her for the rest of her life.
But the three-time Grand Slam winner is, in Croft's words, the "ultimate competitor" and abandoning the game she loves, even when she felt her arm was "going to fall off" during her recuperation, was never really an option for the Russian.
It is an inner strength that has seen Sharapova piece together her game and climb back up the rankings from 126 in 2009 to number two in the world now.
Sharapova's pluck and resolve, belying her elegant image, make her one of the favourites for the French Open starting on Sunday, according to Croft, who also tips another rejuvenated member of the tennis aristocracy, Serena Williams, to thrive on the Paris clay.
"I wouldn't have said that six months ago, not with Serena anyway, as both were very up and down," said Croft.
"Sharapova's competitiveness gets her through matches. She has technical frailties in her game but she goes for her shots. She just plays in the moment and that's what she's good at."
It was Sharapova's mental toughness that caught the attention of coach Nick Bollettieri in 1994 when the ungainly seven-year-old with cue sticks for legs arrived at his tennis academy in Miami from the Russian port of Sochi.
What the young Sharapova, learning a new language in a foreign land without her mother, had was a spirit Bollettieri said he had witnessed in only two other players: Monica Seles and Serena Williams.
"She scared them," the American told BBC Sport from his office in Florida. "Even though she didn't have as much athletic ability as Jelena [Jankovic], her mind was just unbelievable.
"It was never in her mind to be a failure. When she's down she's probably more dangerous than when she's up."
Sharapova's serve has "come a long way" in the three years since she returned from shoulder surgery, according to Bollettieri, and she has renewed self-belief in what was her lethal weapon when she burst onto the scene to win Wimbledon as a 17-year-old.
But it is Williams, another former pupil, who excites Bollettieri the most.
"I certainly would not want to meet Serena if she gets to the quarter-finals, which I believe she will," said the 80-year-old.
Like Sharapova, Williams has had a tumultuous few seasons. After missing nearly a year of tennis with various health problems, the four-time Wimbledon champion last summer fell to a 14-year low of 175th on the WTA list.
But the 13-time Grand Slam champion, unbeaten on clay this year, heads to Paris full of joie de vivre once more.
Fitness has been an issue for Williams, who withdrew from last week's Rome Masters through injury, but the 30-year-old, now ranked fifth in the world, insisted it was merely a precaution and, significantly, has four singles tournaments under her belt since the Australian Open, including victory over the world number one.
Croft describes Williams's 6-1 6-3 annihilation of Victoria Azarenka to win the Madrid Open this month as "breathtaking" and says the defeat has "taken the wind out of Azarenka's sails", which is why Bollettieri believes the Belarusian could lose her top ranking this summer.
"This will be a big test for her and what she should probably think about is not defending anything but to go out and do what she does well," he said.
The Australian Open champion, who began 2012 with a 26-match winning streak, now has her work cut out to keep at bay two greats of the game once more approaching their best.
And for Bollettieri, Williams near her best is as good as it gets.
"Serena is enjoying it again and has a lot of confidence," said Bollettieri. "Serena, when healthy - and not taking away from any other player - is the best in the history of the game."