Serena Williams is confident she can win the French Open
Last updated on .From the section Tennis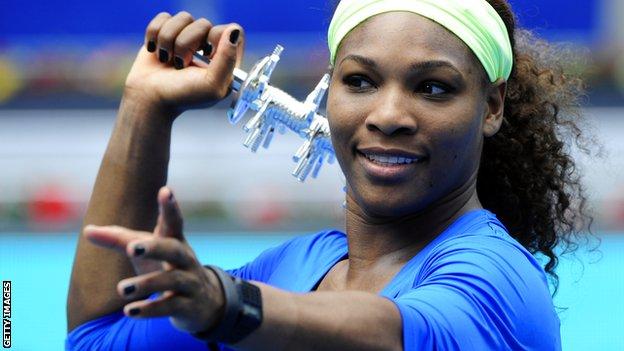 Serena Williams says she can build on her recent good form and win a second French Open title.
The former world number one won in Madrid before having to retire injured in the quarter-finals at the Italian Open - both clay-court tournaments.
When asked if she could win at Roland Garros, the 30-year-old told BBC Sport: "Yes, absolutely.
"I feel really amazing right now and I feel I can do a lot more and I want to do a lot more."
The world number five added: "I think I'm close [to becoming world number one again]. My goal is just to be consistent, do the best I can and just win titles.
"If the number one ranking comes with that then bravo. If not then I'm just focused on doing the best I can."
Williams's win in Madrid came courtesy of a final victory over world number one Victoria Azarenka, but the 13-time Grand Slam singles champion says there will be other obstacles for her in Paris.
"I think there's a lot of depth," continued Williams. "We have myself back in the top 10, Maria Sharapova and Azarenka - they're both playing really consistently.
"I'm just glad to be back in the swing of things. I was just really disappointed earlier this year with my injury but now I feel I'm back in it and I can compete with these players."
Williams has reached the quarter-finals in seven of her last eight visits to Roland Garros but has only got past that stage twice - when she took the title in 2002 and again a year later when she was beaten by Justine Henin in the semi-finals.
However, the French Open is the only Grand Slam singles title Williams has not won at least twice - her only victory coming with a win over sister Venus in the final 10 years ago.
"I feel like Paris is my home," she added. "I really want to move there, but I don't want people in America to be disappointed. I'm really loving Paris so much. I'm always there."