French Open 2012: Baltacha up for Stosur challenge in Paris
By Elena Baltacha
British number one
Last updated on .From the section Tennis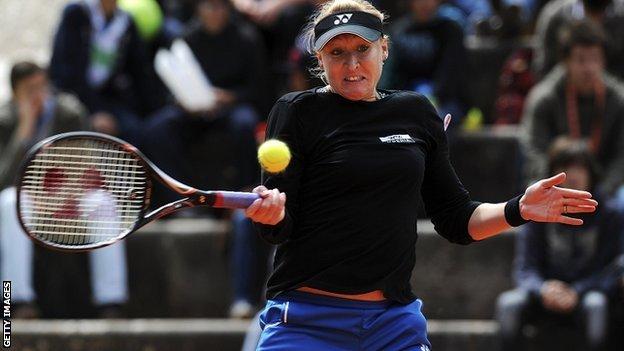 Here I am in Paris and, as fate would have it, I have been drawn to play a former finalist at Roland Garros, Australian Samantha Stosur.
It's a very, very tough draw, let's face it, but that doesn't mean that I don't think I have a chance of winning. I have beaten top players before and you do it by believing in yourself, having a good game plan against them and fighting for every ball.
I'm not daft, I know that plenty of people will think I've got no chance in this match - but I believe 100% that I'm capable of winning. If I didn't believe that I might as well start looking at the Eurostar timetable and packing my bags right now.
Sam won her first Grand Slam title at the US Open last year and right now she's ranked six in the world, and it goes without saying that I have massive respect for what she's achieved.
I also think Sam deserves a lot of credit for how she goes about things, because she is very down-to-earth, works incredibly hard and she's a great athlete. Clay is probably her favourite surface too.
I need to make sure that I have a really good game plan against her, so I'll sit down before the match with my coach Nino (Severino) and probably chat to Judy Murray as well, and we'll talk about what we think will work well in the match.
I have played Sam before, on grass at the Aegon International in Eastbourne a couple of years ago, and we had a good match. It will probably be on a show court and that usually brings out the best in me. In some ways, the pressure is off and I can just go out there and focus on playing as well as I can. In a funny way that's quite a nice position to be in.
I certainly feel like I'm better equipped to give Stosur a run for her money than I would have been a few years back.
I don't mind admitting that for a long time, early in my career, I had no idea what I was doing on clay. I didn't know what shots to hit or how to move and I barely won any matches on it, even at smaller tournaments. As a result, I would come to Roland Garros and never felt like I really belonged here.
As you can imagine, in those days playing the French Open was more like a day trip for me than competing at a Grand Slam, but when Nino started working with me he helped me change my attitude and my results on clay improved. For the first time I started winning matches in qualifying at Roland Garros and then last year I won my first match in the main draw here.
I've spent a lot of hours hitting on clay over the last two seasons by doing training blocks at La Manga Club in Spain and by playing more clay-court tournaments. I feel like a different player on clay now.
Last year I achieved my best ever results on clay and, although my results haven't been brilliant this year in general, I got a lot of confidence from reaching the semi-finals of the ITF clay-court event in Prague the week before last. I have added a lot of variety into my game this year and that really helps on clay, because it's not a surface you can just whack the ball on and hope for the best. You have to play smart.
I'll be trying to do that against Sam and, although it's going to take one hell of a performance from me, I know what I'm capable of. Upsets happen all the time in tennis and I'll be doing by best to cause one.