French Open quotes of the day
Last updated on .From the section Tennis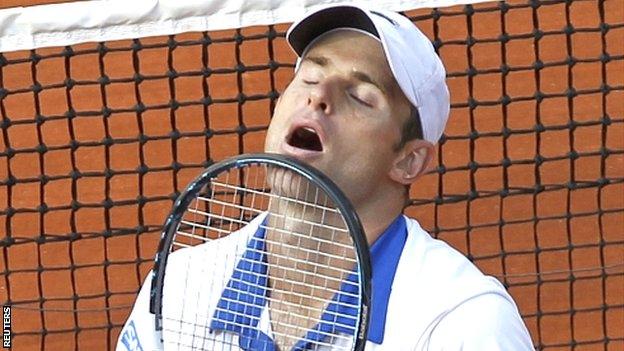 "You can't fake it out here. I move horrendously out here. My first step is just so bad on this stuff. I feel like I'm always shuffling or hopping or not stopping or something. My footwork on this stuff is really bad." Andy Roddick makes no excuses for defeat by Nicolas Mahut.
"You know, there are a lot of guys who know how to play on clay, and it's just second nature to them. I feel that way on grass, so hopefully I can turn it around there." Roddick sets his sights on the green stuff.
"I think it's harder getting back than actually getting there in the first place. I had to work really hard. I feel like myself again and I'm enjoying competition. I'm just enjoying being out there and challenging top players and to be challenged as well. I think that's what it's all about." Ana Ivanovic explains her rollercoaster journey since winning the 2008 French Open.
"When I walk on the court I don't think whether I am young or old, the only thing I try to do is play well." Nine years on from his Roland Garros title, 32-year-old Juan Carlos Ferrero savours victory over Jonathan Dasnieres De Veigy.
"I think there is a long life after tennis, so I've been preparing for this in the last four, five years... like [setting up the] hotel or the academy or the tournament in Valencia." Ferrero looks set to swap his tennis headband for a business hat.
"I went to practice today and mistakenly took Venus's racquet bag. Thank goodness we use the same amazing racquet! Thanks Vee." Having a tennis-playing sister comes in handy for Serena Williams.
"It's a great feeling, just very nice. I love this tournament. Even before I won I always enjoyed coming here. It's special atmosphere here, I'm really enjoying it." Svetlana Kuznetsova, the 2009 champion, does her bit to promote the French Open.
"I have nothing to lose. I have no points to lose. Last time I lost in the third round. If I was to lose in the first round, I would lose 90 points, so that's peanuts. It's not my favourite surface at the moment. Trust me, I'll have more pressure at Wimbledon." Jo-Wilfried Tsonga denies that France's 29-year wait for home champion is weighing heavily on his shoulders.
"The first year they had it, there were only a few matches and it didn't feel like the tournament had really started, it didn't feel like it was happening with fewer players around," she said. "But now with a full schedule, it really feels like the first day of the event." Sam Stosur has her say on the Sunday start.
"It's nice to be on a real clay court again and actually feel like you can play more clay court tennis. I think one of the things that's probably annoyed a lot of people is that you're on a clay court but you can't play real clay court tennis." Stosur is the latest player to deliver a damning verdict on Madrid's blue clay.