French Open 2012: Elena Baltacha rues bad luck in Paris
By Elena Baltacha
British number one
Last updated on .From the section Tennis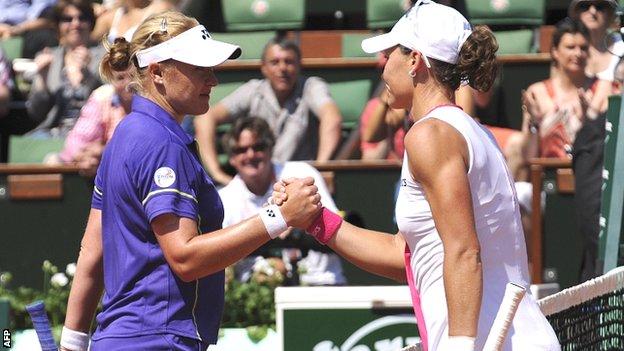 There are times when your luck is really out and I knew as soon as I drew Samantha Stosur in the first round at Roland Garros that it was one of the toughest draws I could have had.
As well as being number six in the world and the reigning US Open champion, she is also one of the best players in the world on clay - and the way she performed in the second set of our match really brought home to me why she is a contender to win this French Open.
I actually felt really happy with how I played overall, particularly in the first set when I managed to get it back to 5-4 on my serve and really made her work hard.
Then she went up a couple of gears in the second set to win 6-4 6-0 and showed why she is ranked where she is and why she's had such great results on clay. This surface suits her game perfectly.
You have to relish all the experiences you get playing at this level, even if the result isn't what you want, and I'll take away some good memories of opening this year's tournament on Court Philippe Chatrier, which is a lovely court to play on.
The French crowd like to get involved and there were a few Aussies and a few Britons joining in as well, and hopefully they had a few things to cheer.
It was fun to play out there against a top player, though, to be honest, I'd rather have played someone nobody has heard of on an outside court and be sitting here with a win.
I've been trying not to think about the Olympics qualification too much because it can just get you tied up in knots worrying about things like that, but defeat obviously hasn't helped my chances of getting a place in the singles.
Realistically, it's probably out of my hands now and I will almost certainly need a wildcard. Those will be decided by the International Tennis Federation, based on which players the Lawn Tennis Association nominates, so we'll just have to wait and see.
I've always loved playing Fed Cup for my country and I've made no secret of the fact that it's my dream to play for GB at the Olympics, but if I don't get to play I will just have to accept it and move on. That's part of being a professional athlete.
At least I will get to carry the Olympic torch (in St Peters, Kent, on 19 July) and that will be a massively proud moment for me because it's such a special thing to be able to do.
I'm going to try not to have too many nightmares about tripping over and putting the flame out by accident - I'm sure that goes through everyone's mind as they carry it.
I'm playing the Aegon Trophy in Nottingham next week to start my grass-court season off and since I won the title there last year, I really want to have a good week to set myself up for June, which is always a massive month for all of us British players.
After Nottingham, it will be the Aegon Classic in Birmingham, then hopefully Eastbourne and then Wimbledon.
As much as I like clay more than I used to, I always feel very comfortable as soon as I step on a grass court because it's always suited my game well - plus playing at home with the British crowd behind you always helps.
As I write this I'm about to catch the Eurostar home and although I'm looking forward to a few nights in my own bed in Ipswich after a long few weeks of travelling in Europe, I'm not happy about going home this early.
Last night my purse got stolen while I was doing my laundry near our hotel in Paris so I even had to borrow money to buy the train tickets home! I guess it just wasn't my week.