French Open quotes of the day
Last updated on .From the section Tennis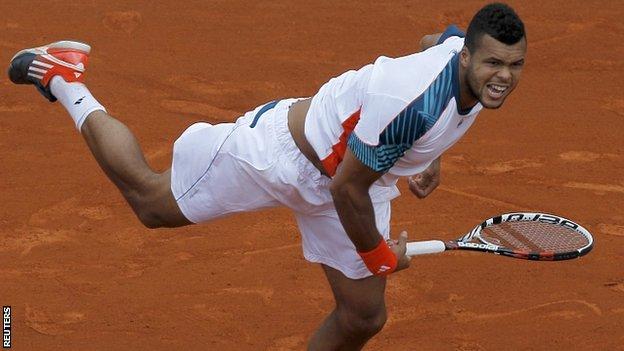 Thursday 31 May
"I find it hard to realise that I won that match," Paul-Henri Mathieu after his record-breaking 6-7 6-4 6-4 3-6 18-16 win over John Isner that took five hours and 41 minutes
"I don't know yet if some of my family are going to come. The important thing is I am in the third round and hopefully I can celebrate the birthday in Paris and not in Mallorca." Rafael Nadal, who is due to celebrate his 26th birthday in Paris
"It was children's day yesterday - there was a lot of noise, and I was getting a bit crazy. So I think it was a good idea the match was stopped yesterday and I could start again in far better conditions for me." Jo-Wilfried Tsonga who completed victory over German Cedrik-Marcel Stebe on Thursday
"He tells me what he thinks and he's not soft, which I don't like. I don't like it when someone tells me, 'Oh, it's great, it's great' when it's actually terrible. I want someone who is strict and tells me things how they are." Caroline Wozniacki on her new coach, former Australian Open winner Thomas Johansson
Wednesday 30 May
"I had lunch next to the Queen, that was exciting. She was very sweet, very nice, very polite, of course, and a pleasure to be around." Roger Federer, recalling the monarch's visit to Wimbledon in 2010.
"I just have to take this experience as something to learn from. I'm still early into this, there are a lot of different things I can do and try. Obviously it's frustrating at times, I don't know if there is anything more mentally I can do, but there are a lot of people who have a lot worse than I do, I'm not allowed to feel sorry myself." Venus Williams on coping with the incurable autoimmune disease, Sjogren's syndrome.
"Thankfully she has like 20-something majors to keep her warm at night. I think she'll be fine." Also from Venus Williams, who displays little sibling sympathy for her younger sister, Serena, who exited the tournament in the first round.
"Most likely I won't play mixed doubles in London because I already have singles and doubles. I think it will be too much. But I support it. Why not have mixed doubles as a discipline in tennis at the Olympic Games?" Novak Djokovic on his plans for London 2012.
"Being number one is a difficult job because everybody wants to catch you, everybody wants to move you from the spot." Victoria Azarenka on the perils of being the world's best player.
"What I try and do is not to think about it. I try and do my best with my tennis. And when I'm out there on the court I try not to think too much about the fact that it really bothers me." Juan Martin Del Potro struggles to repress thoughts about his knee injury.
"Unfortunately in this sport it's always up and down and very emotional. But just to be at peace with myself and to have goals set for myself in my head, that made the big difference. I don't put this outside pressure so much on to my back any more." Ana Ivanovic enjoying her return to form after the dip that followed her 2008 Roland Garros triumph.
"Even though I achieved some of my dreams, I still have hunger for more. That's what drives me and that's what inspires to me to get up in the morning and to work hard." Ivanovic sends a warning to her rivals.
"It's still only the third round and there is a long way to go yet before you are holding the trophy." Sam Stosur looking ahead to her next match with Nadia Petrova.
"I'm still playing professional sport, so I have to be very positive." Venus Williams puts her defeat in context after her first grand slam appearance since being diagnosed with auto-immune condition Sjogren's Syndrome last summer.