French Open: Andy Murray wins despite injury concerns
Last updated on .From the section Tennis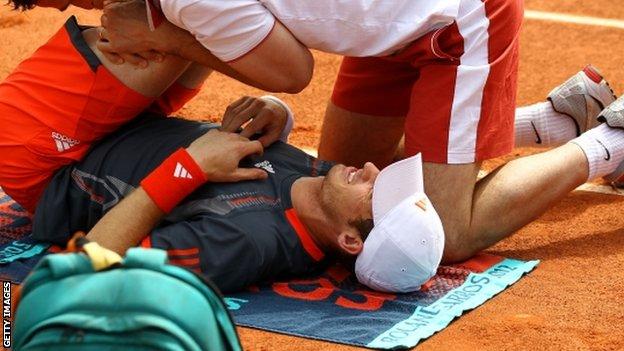 British number one Andy Murray overcame a significant injury scare to reach the French Open third round with a gutsy victory over Finland's Jarkko Nieminen.
The fourth seed, who has been battling a back injury, came from behind to seal a 1-6 6-4 6-1 6-2 win but admitted afterwards he came close to quitting.
Murray struggled to serve or move around the court during the first set and called for the trainer three times.
But the Scot recovered from 4-2 down in the second and dominated from there.
Murray, who has a day off before facing Colombian Santiago Giraldo, impressed with his determination and courage to fight back.
But the opening stages of the match will raise questions about his condition going into a key phase of the season.
Murray has been troubled by an ongoing back problem that saw him pull out of the Masters Series event in Madrid earlier this month, but he insisted this was not the same injury.
"It's a completely different thing to what I had beforehand," he said. "If it was the same, then I would be really, really concerned about Wimbledon and obviously the Olympics.
"But so long as what I'm getting told by doctors and the physios is, if it is just a muscle spasm, then that's nothing to be overly concerned by.
"But they are, when they happen, very difficult to shake off, especially when it's early morning. It takes a bit of time for your body to warm up.
"But I'm not doing any permanent damage by finishing a match like I did today."
Murray admitted he was surprised to come through the match.
"I can't believe I won. I guess when you're in that position, especially in a Grand Slam, emotionally it's pretty challenging, because you're only one or two points away from having to stop.
"I couldn't believe I was in a position to win at the end of the fourth set, so I was starting to get a bit edgy. Rather than it being satisfying, it was just quite emotional."
"The guys were telling me to stop after the first set, we talked about it briefly before the match and I just decided to play. Sometimes guys can get nervous and you feel better, and a combination helped me get through."
After Murray overcame Tatsuma Ito of Japan in the first round he played down concerns about his fitness.
But he was toiling from the beginning against Nieminen.
Although he has refused to go into details about the injury, the 25-year-old was forced to pull out of the Madrid Masters at the start of the month.
After being beaten in the third round of the Italian Open, Murray hoped to be reaching his peak at this tournament, ahead of a busy period including Wimbledon and the Olympics.
But that appeared to be far from the case in the opening stages against Nieminen.
With his movement impeded, Murray's timing was also affected as he produced a catalogue of unforced errors and regularly grimaced between points before clawing his way back into the match in the second set.
With serves nowhere near the 100mph mark, Murray was clearly hampered and after being broken for a second time to go 4-0 down he took a three-minute physio break.
He managed to break back to make it 4-1 but Murray was broken once again and Nieminen closed out the first set.
Murray, who has only retired from an ATP event on one occasion, was treated for a third time, only to be broken in the first game of the second set.
But as he began to look stronger and move freely, Murray held four times, as well as breaking, to move 5-4 ahead in what proved to be the pivotal phase of the match.
Nieminen, who has won one of his 32 matches against top-five players, then failed to get a single point on his service game as Murray improbably pulled the match level.
The Finn, ranked 48 in the world, failed to cope with Murray's resurgence and lost his first service game of the third set and Murray broke again to move 5-1 ahead on the way to securing the third set.
Murray broke once again in the first game of the fourth set and cruised through.
The Scot, who reached the semi-final at Roland Garros in 2011, also had a lay-off because of a groin problem in November last year.
His next opponent Giraldo pulled off a shock to beat Bernard Tomic in three sets. Murray won their only previous meeting, 6-1 6-2, in Barcelona in April.