French Open 2012: Quotes of the day
Last updated on .From the section Tennis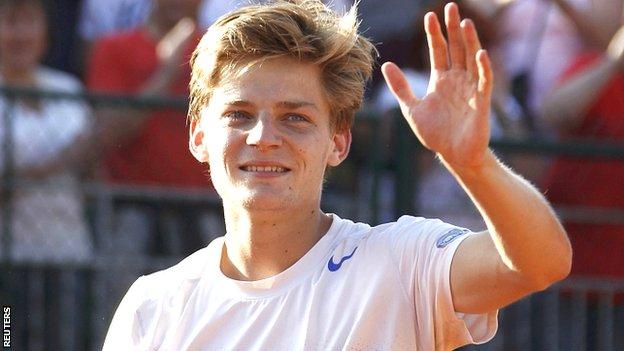 "Now I'm playing against Roger, and I can't believe it. When I was young I had a lot of pictures of him in my bedroom. I will give it my best on Sunday. I've been watching Roger playing on TV for so many years. He has always been my favourite. He has perfect tennis, perfect technique, and I like the man." A starstruck David Goffin previews his third-round meeting with Roger Federer.
"Not the first time it happens. It's strange, weird. It's everything you can imagine. I'm happy to hear it, though." Federer unsurprised by Goffin's fandom.
"You're hanging around all day, sitting, waiting around, eating, sleeping. It's like a good way to put someone into retirement," Maria Sharapova after her match against Ayumi Morita was put back from Thursday to Friday. The Russian second seed breezed through to the third round 6-1 6-1.
"I'm excited because now I'm going to have more Twitter followers," Sloane Stephens, the American 19-year-old, after her third-round win over Mathilde Johansson.
"Fabio always does that, and when I walked on the court this was one of my objectives. I didn't want to fall in the trap, because then it can become very complicated," Jo-Wilfried Tsonga on the antics of Italian Fabio Fognini, after the Frenchman secured a straight-sets passage to the fourth round.
"I don't really see what the point would be in play-acting, going down 6-1 4-2. I don't really see what the point would be in putting yourself in a position where you're about to lose, and stop the match, and then somehow manage to turn it around," Andy Murray defends himself after being called a "drama queen" by Virginia Wade for calling the trainer three times during his second-round win over Jarkko Nieminen.
"I have not played so well in a long time so I'm really happy about it," Svetlana Kuznetsova, the 2009 French Open champion, on her win over third seed Agnieszka Radwanska.
"She was just playing too good today. She just had an answer for everything that I was trying to do," Radwanska concedes that she was outplayed by the Russian.
"It's really disappointing because I felt like I had a game and I was playing really well. My serve really let me down. Maybe I wasn't using my legs enough," Ana Ivanovic, champion in 2008, reflects on the unforced errors she committed in her defeat by Italian Sara Errani.