French Open 2012: Wilander urges Murray to be proactive on court

By David McDaid
BBC Scotland at the French Open
Last updated on .From the section Tennis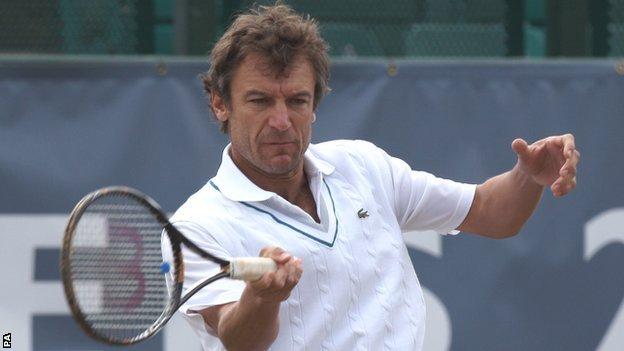 Swedish tennis great Mats Wilander has urged Andy Murray to take a more proactive approach in his French Open matches if he hopes to land the title.
Murray takes on Santiago Giraldo on Saturday on the Roland Garros clay.
"Andy's problem on clay is that he hasn't matured enough in that mental department where he is willing to ask questions over and over," he said.
"You have to be proactive here, not reacting to your opponent as much as you can on hard courts and grass."
Murray practised for close to an hour on Friday as he tries to make a full recovery from
Wilander, winner of three French Open singles titles in the 1980s, maintains that the surface should not aggravate Murray's back complaint.
"It's less of a concern on a clay court because you're not going to get that sudden injury," he contended.
"Because it's a smoother movement, you'll maybe out-stretch it.
"He's not going to push himself if he doesn't think there's a chance of winning a match."
But while the clay may not further upset Murray's back, it may concern his head.
Discussing the challenge of winning a Grand Slam on clay, the Swede said: "It takes a different mindset because you have to start and stop so many times.
"You get on a roll for 20 minutes then you run into a problem and your opponent figures you out.
"You have to be very creative tactically, which Andy Murray is.
"On hard courts and grass courts you have a service winner and a return winner and there are a lot of points that just go by the wayside.
"Here there are maybe two points a game that you couldn't do anything about; the rest you have to think about."
Murray, seeded fourth, and the Colombian Giraldo, ranked 50th, are second on Court One on Saturday.
Should Murray triumph, he would face Tommy Haas or Richard Gasquet in the last 16.
It's a gruelling tournament and, for Murray to win it, Wilander feels he will have to match the application of Novak Djokovic, Rafael Nadal and Roger Federer.
"It is this relentless asking questions [of your opponent] that Nadal is so good at that sometimes Andy Murray stops doing and that's what is holding him back," said Wilander.
"He is a great player and to win a Grand Slam you have to be willing to accept that the fact that you just have to keep trying harder and harder.
"He is getting there but most probably the French Open will be the last of the slams that he will win.
"He's always been at the same level tennis-wise as the top three. He knows he is closer, the other guys know he is there.
"It is going to happen - it's just a matter of when.
"We all develop at our own time. He is a born winner. He is beating the top three in other tournaments.
"He just has to be ready when the other guys falter."