French Open 2012: Quotes of the day
Last updated on .From the section Tennis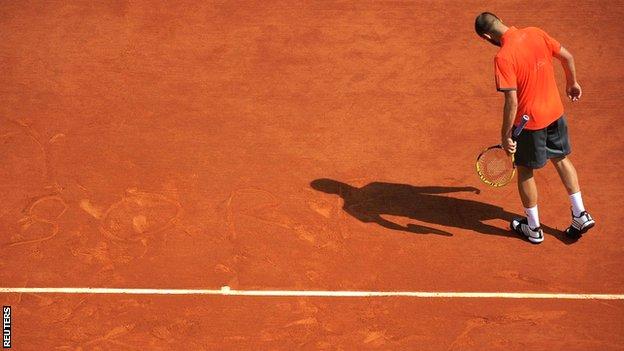 "There were a lot of people there. That's why I wrote 'sorri'. Because I couldn't show them a nice game. The fans came to see a beautiful match but I simply could not give them that." Mikhail Youzhny explains why he scraped the word 'sorri' in the clay during the first set of his defeat by David Ferrer.
"I didn't see it. I was very focused on the match and it was funny. It was funny now because I won. I'm very happy." Ferrer sees the bright side of Youzhny's antics.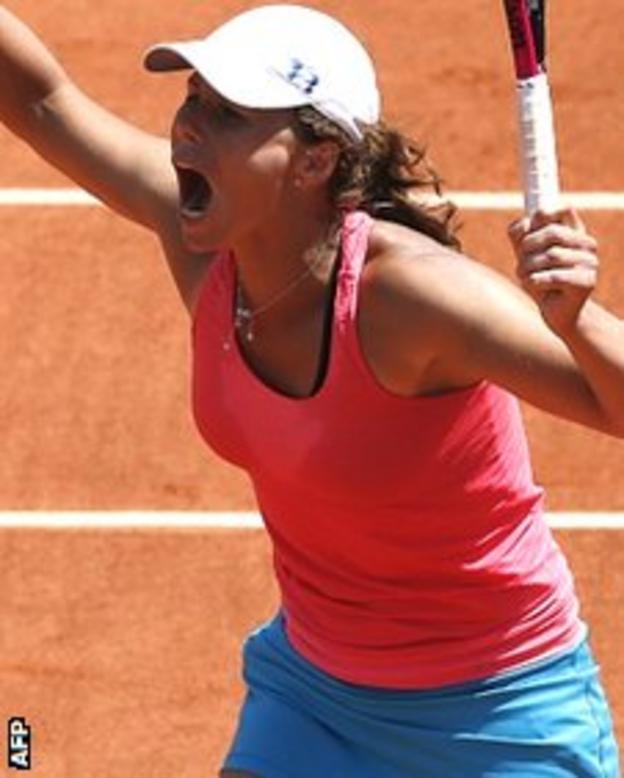 "It's her court, you know. I knew that she was not going to give it up for free. I had to work really hard, and I did." Varvara Lepchenko savours her shock win against 2010 champion Francesca Schiavone.
"I kept thinking, 'OK, this is going to be over soon for me', but something deep inside of me still was like, 'no, you can do it, you can do it'. I'm so happy to be through." Even Lepchenko doubted the result was possible.
"I wouldn't have been able to make it as far as I am right now if I was back in Uzbekistan. After we arrived in the United States we didn't come back, because there was no future for me, no future for my career." Leaving Uzbekistan for the USA in 2001 seems to be proving an inspired decision for Lepchenko.
"I played horribly. Ferrer played well, but not very well. He only won because I played horribly." Youzhny was in a gracious mood.
"I don't expect her to be [in contact]. That sort of stuff happens all the time. You get people watching matches or commentating on matches and those sort of things get said all of the time." Andy Murray puts an end to his row with Virginia Wade.
"It was a beautiful match." Richard Gasquet assesses his victory over Tommy Haas.
"I was a little bit lost at the beginning because all the courts here at Roland Garros are generally really narrow and small." Janko Tipsarevic taken by surprise on his Court Philippe Chatrier debut.
"I was very young. I was three to eight when I was there, so we learned Mandarin in school. We learned very little Mandarin, but I went to an international school. I need to practise." American Christian McHale tells reporters about her formative years in Hong Kong.
"I'm very pleased that a country like China follows our prestigious tournament. For us, it's an extraordinary opportunity to promote clay court tennis. I'd like to heartily thank the Chinese Tennis Federation for welcoming us on their home soil for this fabulous event." French Tennis Federation president Jean Gachassin hails the start of a nine-day "Roland Garros in Beijing" festival in the Chinese capital to promote clay court tennis.