French Open 2012: Caroline Wozniacki furious after loss
Last updated on .From the section Tennis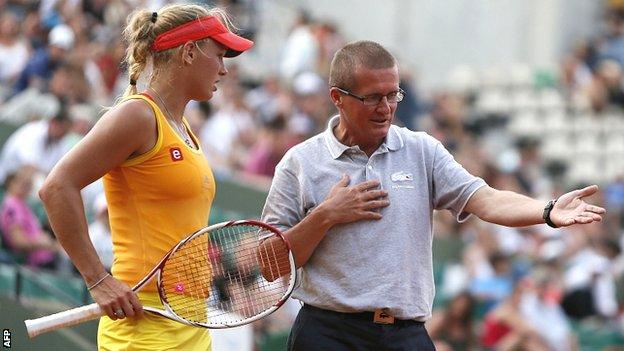 Caroline Wozniacki says it is "a disgrace" that erroneous line calls can be made after she was
Estonia's Kanepi saved a break point at 1-1 in the second set with a shot which Wozniacki felt landed well long.
"It's a disgrace mistakes like this are made - it was clearly out," said the former world number one.
"If they cannot see, they should have other umpires on the lines or invent Hawk-Eye on these courts."
The French Open is the only Grand Slam tournament that does not use Hawk-Eye technology.
Wozniacki lost 6-1 6-7 (3-7) 6-3 to see her campaign ended in the third round for the second year running.
However, the ninth seed was left seething by that moment of controversy early in the second set.
She did not attempt to play Kanepi's groundstroke in the belief that it had floated beyond the baseline.
But there was no call from the line judge and, after inspecting the apparent ball mark, chair umpire Poncho Ayala upheld the decision.
Wozniacki raged at Ayala, reportedly saying: "How can you sit there and be so arrogant? Have you gone to school?"
The Dane demanded to speak to the supervisor but the ruling stood and she went on to lose four successive games.
She managed to force a deciding set but could not complete the comeback as Kanepi sealed a last-16 meeting with Arantxa Rus.
"When the ball is clearly out I don't think there should be anything to argue about," said 21-year-old Wozniacki.
"It wasn't even like it could have been in, could have been out.
"When a ball travels five miles an hour in the third set at 1-1 I think either the linesman or the main umpire should be able to see the ball."