Victoria Azarenka plans tennis break to prepare for Wimbledon
Last updated on .From the section Tennis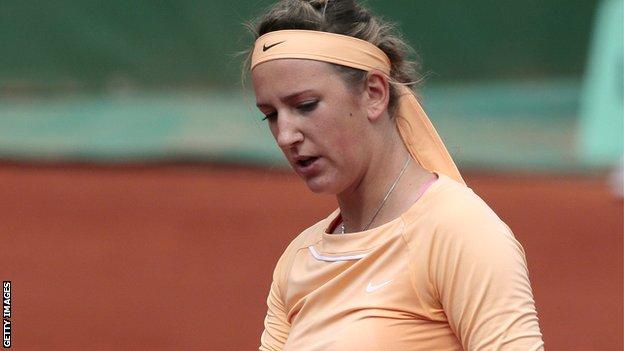 Victoria Azarenka says she will take a short break from tennis following her French Open exit to ensure she is mentally ready for Wimbledon.
"There has been a lot of tennis for me in the last five months," she said.
"I need just to get rested mentally, definitely. Once I have my passion and desire back on the court, I'll be on the grass."
Top seed Azarenka almost lost to Alberta Brianti in round one and was far from at her best against Cibulkova - an opponent she had beaten seven times in eight previous meetings.
Her frustrations with her own performance were evident midway through the second set when she twice smashed her racquet against the clay court after Cibulkova had overturned a 2-0 deficit to lead 4-2.
"I don't know how to describe my performance really. It wasn't satisfying at all," added Azarenka.
"But I guess it happens. I don't know even what to find positive in my performance."
While Azarenka lamented her lack of mental strength, Cibulkova was "proud" of the way she kept her cool, especially when the second set went to a tie-break as Azarenka attempted to regain control.
"It was a great thing that I managed to go through these emotions," said the 23-year-old. "She was 6-5 up, and I said, 'Hey, come on, you have to play your game again and just make it'.
"And for the tie-break I'm very, very proud of myself that I was still going for my shots, and I just made it because she would never give me the match."
Cibulkova's best previous performance in a Grand Slam came at Roland Garros in 2009, when she reached the semi-finals.
"She's definitely a good player," added Azarenka. "I think she plays much better against the top players than maybe a little bit lower-ranked players. She really has that desire. I don't know what motivates her to play that way.
"She's a dangerous opponent. She had big wins before, and it was no surprise that she was going to be playing well."