French Open quotes of the day
Last updated on .From the section Tennis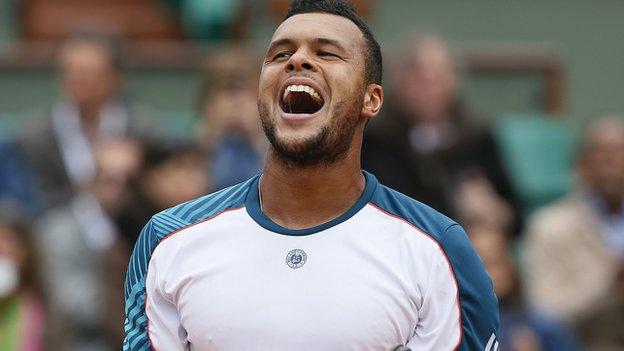 "It was a bit of a nightmare until the moment I hit my first ball, because before that, I had a thousand questions in my head. I really wanted to win that match, and it was very difficult," Jo-Wilfried Tsonga on his overnight wait to complete a five-set win over Stanislas Wawrinka.
"I fell on my bottom, but I've got a big bottom so nothing happened," Nicolas Almagro plays down the fall he suffered in his win against Janko Tipsarevic.
"It was drizzling, which never helps a guy like me who's wearing glasses on court. But all that was maybe 5%," Tipsarevic looks to explain his straight-sets defeat.
"I lost one match so don't try to put me down," Li Na goes on the defensive after the defence of her title came to an end with defeat by Yaroslava Shvedova.
"I had come from qualifying, was playing my seventh match and I just told myself to enjoy the day and try and my best," world number 142 Shvedova reflects on her win over Li.
"I'm useless with game plans. That's probably the one thing he just gets so frustrated with me about. I go out there and I do my own thing, and then he's like, after the match, 'Really? What's the point of having me?' But I apologised when I hired him in advance, so he's OK," Maria Sharapova on her relationship with coach Thomas Hogstedt.
"He was unlucky in the first set and the score of 6-2 was too much. I felt sorry for him, he was suffering on court. I was sad for him. It's tough to accept that you are losing 6-0, 6-0," Rafael Nadal shows some remorse after hammering good friend Juan Monaco.
"I don't want my knee to be a hindrance, and it is not a hindrance. It doesn't bother me. If I lose this match I cannot say it is because of my knee," Juan Martin del Potro ignores an injury to complete his win against Tomas Berdych.
"It's true that in the past four matches, I felt really comfortable. I felt really at ease," a relaxed David Ferrer, who has not dropped a set en route to the quarter-finals.