French Open: Novak Djokovic shows why he is number one

By Jonathan Overend
BBC tennis correspondent
Last updated on .From the section Tennis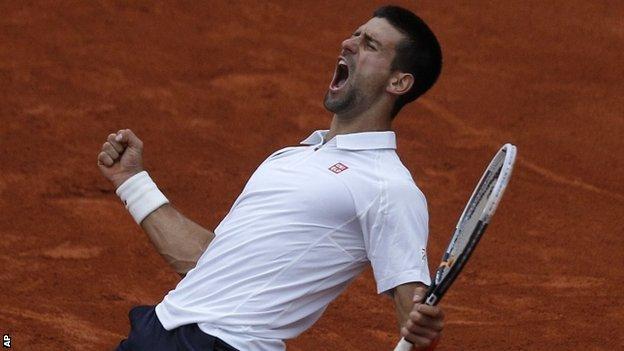 It was an incredible day at the French Open and much of it played in steady drizzle here in Paris which just added to the intrigue.
To me the Novak Djokovic and Jo-Wilfried Tsonga match had pretty much everything and for the world number one to be so close to defeat, save four match points and come through in the end just proved once again that he is the undisputed number one of this sport.
There's no way you could blame Tsonga really for squandering those opportunities. Maybe on one of the four match points, he had half an opening down the line with a forehand as his eyes widened.
But on the others Djokovic was playing some daredevil tennis with his back up against the wall and that's why he is the best player and may well go on to end this tournament holding all four majors at the same time.
We are totally being spoilt at the moment with all these strong matches from the top three - Djokovic, Rafael Nadal and Roger Federer.
Then you look at the players in the next group - Andy Murray, Tsonga and Tomas Berdych and Juan Martin del Potro. These are all high quality players who in other eras would have got their hands on some of the sport's major spoils - but at the moment they are being denied.
Tsonga, the fifth seed, threw everything he had at this match but the Frenchman will feel devastated at the end of it because he so desperately wanted to get to the semis.
He wanted to win this title for France but it wasn't to be and that's only because of the man on the other side of the net, only because of Djokovic's extraordinary fighting spirit and the way he plays on those match points.
Don't forget Djokovic saved match point in his US Open semi-final last year against Federer so that's six he has saved during this unbeaten grand slam run which will now celebrate its one-year anniversary when he plays Federer here in semi-finals on Friday.