French Open 2012: Novak Djokovic savours 'fortunate' win
Last updated on .From the section Tennis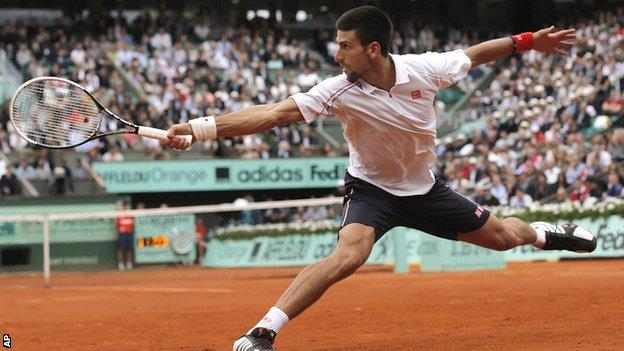 Novak Djokovic admitted he was fortunate to still be in the French Open after to reach the semi-finals.
"He was the better player for most of the match," said the top seed after his 6-1 5-7 5-7 7-6 (8-6) 6-1 victory.
"I was fortunate to come back from four match points. I don't know how I came back from that. As a tennis player, this is what you live for."
Djokovic will meet 2009 champion Roger Federer in the last four on Friday.
The 25-year-old said he would have to be "aggressive and very focused" in a repeat of last year's semi-final between the pair at Roland Garros, which the Swiss went on to win in four sets.
"The good thing is that we both have two days off to rest," said Djokovic, referring to Federer's five-set victory over Argentine Juan Martin del Potro in the day's other quarter-final.
"You can always expect Federer to play his best at this stage of a tournament and I hope to have another great match like we had in 2011. It's always a big challenge to play Roger."
Federer, who fought back from two sets down to beat an ailing Del Potro 3-6 6-7 6-2 6-0 6-3, will appear in his 31st Grand Slam semi-final to equal a record held by Jimmy Connors.
The 30-year-old third seed said he was disappointed for crowd-favourite Tsonga.
"I would have loved to play him here in Paris. I have a feeling that the crowd would have loved to see such a match," said Federer.
"For him, it's a disappointment. As for me, it's nothing different as from last year. I'm playing Djokovic in the semi-final."
An emotional Tsonga, who found his stride in the match after losing the first set in 21 minutes, described the loss to Djokovic as the "most difficult defeat of my career".
"I'll try to remember this match and this loss so I have more confidence in tournaments like Wimbledon. Because if I can hurt the top players on clay, I can do worse on grass," said the fifth seed.
The 27-year-old added that he "gave everything" in an attempt to beat a player who is hoping to become the first man since Rod Laver in 1969 to win all four major titles in 12 months.
"You get all kinds of feelings going through your mind. You want to break your racquet. You want to shout. You want to cry. You want to laugh and say, 'oh, come on, that's a joke. How could I lose this match?' You want to wake up."