Worrying times for Roger Federer if famed forehand deserts him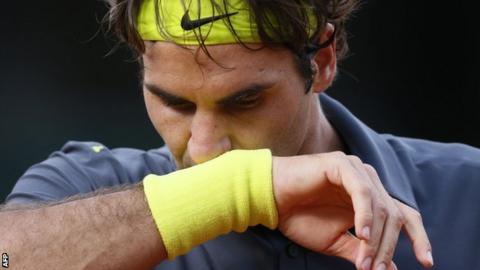 Watching Roger Federer at close quarters over the past decade - one of the great privileges of this job - you find yourself gradually developing an ingrained trust in the man.
Whether a Federer supporter or purely impartial, you can't help sitting there in the tennis stadiums of the world, feeling matters are in safe hands.
Most of the time you'd trust him on a break point or a second serve. You'd trust him in a tie-break while babysitting the kids and putting the bins out.
And most of all you'd trust his forehand.
You wouldn't ever put the mortgage on his backhand - his angle of attack when hitting over the top makes the odd shank of the frame inevitable - but the forehand has been the big shot over a decade of Grand Slam glory. It has rarely let anyone down.
So when it started to disintegrate against Novak Djokovic surely even his most loyal supporter would have to admit to a new feeling of nervousness.
That faith in the "fearhand", as some of our American friends like to call it, was being questioned like never before during a resounding 6-4 7-5 6-3 loss to the top seed.
And this uncertainty lies at the heart of the matter in Federer's 31st year - can his "go-to" shot hold up sufficiently to compete with the likes of Djokovic in the future?
The Swiss started the semi superbly. I went on Radio 5 live to give a quick update after the fifth game and flash the news of Federer's early break of serve. His forehand had been the standout shot, I reported.
In the next game, from 30-30, he put a forehand wide and then another half way up the net. It was the first of seven breaks of the Federer serve as he squandered that break in the first set and then a double break in the second. Amazing.
During long rallies, it started to be a case of when and not if the shot would break down. Going to the Djokovic forehand, the doubles alley was like a fairground target with a prize every time. Running round the backhand, the net was bulging more often than the Czech Republic goal at the Euros.
Did Djokovic systematically break it down, playing so furiously to that wing that a malfunction was inevitable? Not from where I was watching. The Serb was good but not close to his best. He didn't need to be.
This was another disturbing day for Federer, coming just 48 hours after he'd trailed Juan Martin del Potro by two sets to love, shouting at the crowd at one point in annoyance. Del Potro's dodgy knee saved Federer that day, as much as any upturn in his form.
But while the 16-time Grand Slam winner watches from the wings as Djokovic and Nadal contest the big prizes - Federer's last major final is now more than a year ago and his last major title came at the start of 2010 - it's still too soon for the formal obituaries.
Let's not forget the extraordinary run of 32 consecutive Grand Slam quarter-finals, a record that surely will never be broken. Then there are all the titles - in Basle, Paris, London, Rotterdam, Dubai, Indian Wells and Madrid - all won inside the last eight months. And with a hip problem too, he tells us.
And of course the Olympics is a substantial and realistic goal later in the summer. Federer can still play incredible tennis and I expect his very best to be on show at London 2012.
But these are not Grand Slam crowns - the ones that really matter, as he would have delighted in telling people like Andy Murray a few years ago when the former world number one was at his peak.
On current evidence, he is some way off challenging the extraordinary Djokovic for those biggest prizes (and perhaps Nadal, although we wait for them to meet again).
And, crucially, how can he expect to challenge if his trusty forehand - his faithful friend for 10 years - starts to let him down when it is most desperately needed?