Rafael Nadal beats Novak Djokovic to win seventh French Open
Last updated on .From the section Tennis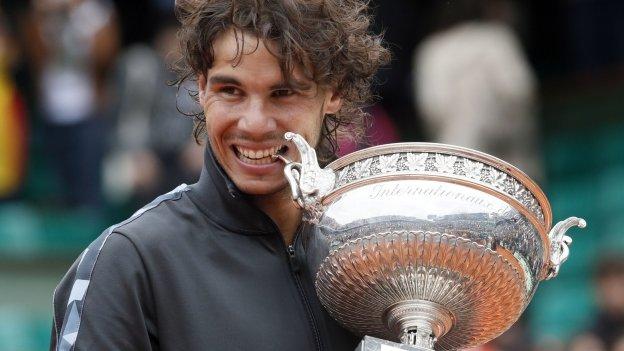 Rafael Nadal won a record seventh French Open title after ruthlessly snuffing out Novak Djokovic's comeback to win 6-4 6-3 2-6 7-5 in a rain-affected final.
Nadal resumed leading 6-4 6-3 2-6 1-2, but his uncharacteristic wobble late on Sunday had fuelled Djokovic's belief.
The Spaniard broke back in the first game of the day however, and then piled pressure on an unsettled Djokovic.
The Serb finally folded with a double fault to hand Nadal an 11th Grand Slam.
Having drawn level with Bjorn Borg on six Roland Garros titles last year, the victory gave Nadal sole ownership of the landmark, and the 26-year-old is likely to have plenty of opportunities to stretch further clear.
The only three men to have more Grand Slam victories - Roger Federer with 16, Pete Sampras on 14 and Roy Emerson on 12 - are now in his sights.
The crowd had returned to Court Philippe Chatrier entertaining the possibility that they may witness a different piece of tennis history.
Djokovic, aiming to become only the third man in history to hold all four Grand Slam titles simultaneously, seemed to have the upper hand on his rival when Parisian drizzle had forced them off on Sunday.
Nadal led but, having been broken early in the fourth, he had looked ill at ease on the court he has made his own.
The Spaniard had surrendered eight successive games and grew increasingly irritated by the wet conditions underfoot before tournament officials called an end to proceedings.
With the chance to reassess his position and resume in dry, if cloudy, conditions the world number two emerged renergised.
Djokovic's hopes of becoming the first man to beat Nadal on clay after losing the opening two sets immediately dimmed as Nadal toppled his serve in the opening game.
Nadal's body language had spoken volumes on Sunday and, after the Serb's forehand down the line was snagged by the tape to bring up 2-2 , it was Djokovic who allowed his frustration to show.
The world number one pounded his head with his racquet strings, but the brutal treatment he was receiving from the opposite end of the net proved harder to halt.
Twice Nadal held to love, while Djokovic's serve continued to look vulnerable.
Djokovic's resolve and fight had seem him haul back four match points to beat Jo-Wilfried Tsonga in the quarter-finals, but he appeared drained as he gifted Nadal the championship without forcing him to play a return.
The Serb's second serve strayed long to end a run of three successive Grand Slam final wins over Nadal and extend his rival's extraordinary record of just one defeat in the tournament since making his 2005 debut.