Rafael Nadal admits nerves before record French Open win
Last updated on .From the section Tennis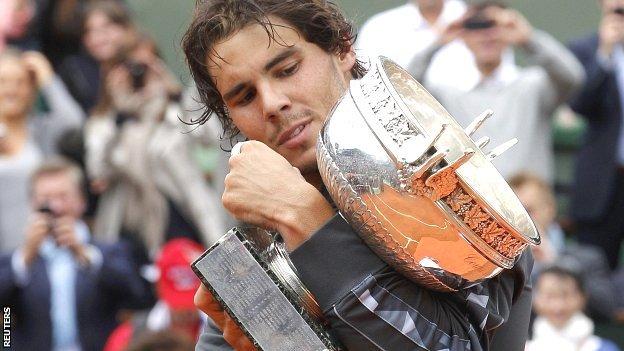 Rafael Nadal says he was nervous before beating Novak Djokovic to collect a record seventh French Open after a rain-delayed final.
The finale of Nadal's came on Monday after play ended on Sunday with Djokovic in control.
"I wasn't ready for the match until three minutes before," said Nadal.
"That was the first moment since we stopped yesterday that I really felt that I am here to play. I really felt nervous."
Nadal had lost eight of the final nine games played in persistent drizzle on Sunday evening, including an early break in the fourth set, and was visibly irritated by the decision to continue playing despite deteriorating conditions underfoot.
The Spaniard's mood and form had both markedly improved when play resumed on the Court Philippe Chatrier on Monday - and he broke Djokovic twice to bring the match to a swift conclusion and surpass Bjorn Borg's tally of six titles in Paris.
The world number two admitted that the early end to action on Sunday, a decision criticised by some, had helped him subdue a resurgent Djokovic.
"It was very hard for me. I've been playing this match since Friday afternoon, it's a long time preparing, and then yesterday with all the stops," he added.
"It was clearly a good thing for me to stop the match yesterday because of the conditions.
"The last couple of games, the conditions of the court were not right to play the final of a Grand Slam. We had to stop.
"The ball was heavier than ever. In my opinion the conditions were much more favourable for Novak than for me."
The world number two, whose win takes his tally of Grand Slam titles to 11, played down the significance of pulling clear of Borg in the record books.
"The seventh is important because I am the player who has more today but the most important thing is to win Roland Garros, whether it's the first, second, third or seventh time," he added
Djokovic's defeat meant he fell one match short of joining Rod Laver and Don Budge as the only two men to win four consecutive Grand Slam titles.
But the Serb refused to put any of the blame for his defeat on the tournament officials.
"I'm not going back, saying it's your fault and your fault because I lost," Djokovic said.
"It's unfortunate because I was playing better, feeling better on the court in the third set yesterday. Today, he started strong. I started slower. I was a little bit unfortunate in that first game and things turned around.
"But I don't find an excuse in that. The better player won today, so congratulations on that."