Andy Murray column: The hard work for Wimbledon starts now
By Andy Murray
British number one
Last updated on .From the section Tennis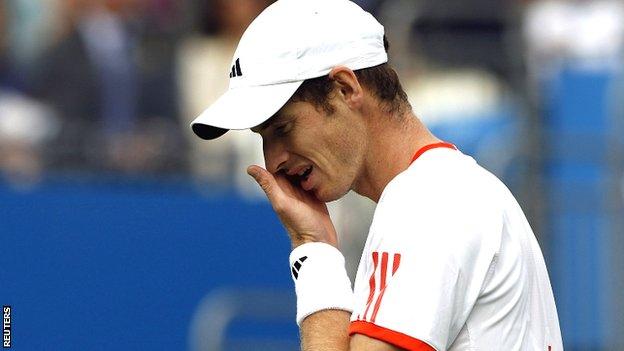 Being knocked out of Queen's so early was obviously disappointing as it's a tournament I love playing. But it's not the first time we've seen a surprise there and won't be the last.
I spoke to my coach Ivan Lendl afterwards and he just said, 'Don't worry about it, it was your first match on grass, it was close, you had a lot of chances. Let's get ready for Wimbledon'.
That's why it's so good having him around; he's been in this position before heading into a Grand Slam and knows you can still find your form in time, provided you do the right work.
When I won Queen's last year it finished on Monday - exactly a week before Wimbledon started - so I was a little bit tired and didn't practice too much before the tournament began.
Now, I'll have time to get all the hard work done, but that's the only bonus. I'll actually spend more time on the grass being out of Queen's than I would have if I was still in it.
Of course I would like to have played more matches, but in the past I've done that and it hasn't always translated into the success I want at Wimbledon, which is to win the title.
We started training at the All England Club on Friday - I hit with Lleyton Hewitt - and the aim is to get some really good practice sets in the bag.
Then I'm playing two exhibition matches, on Wednesday and Thursday, at Stoke Park. It's a nice facility and they have a good gym. I can spend the day there and get my physical work done.
Fitness-wise, the next few days are all about endurance.
Grass may be a forgiving surface but because you're staying really low with lots of direction changes and very fine movements, your joints can get quite sore. Similarly, running on a track can make you stiff.
So for endurance I'll get on on the bike or versaclimber and then, closer to Wimbledon, my focus will turn to speed work using a bungee rope, ball feeds and specific on-court drills.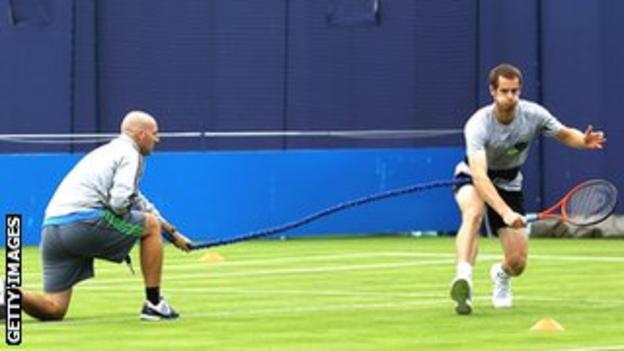 The bungee rope provides resistance, so you play a few shots while attached to it before removing it and hitting the same shots. The idea is you'll start getting there quicker and quicker.
In terms of my tennis, the serve and return are the two most important shots on grass and it's vital I spend a lot of time working on them.
If you lose your serve on clay, there's a good chance you'll get it back because of the slow surface - but serve badly on grass and it puts huge pressure on your return game.
Likewise, if you serve well on grass it puts a lot of pressure on your opponent to do the same.
It will be a bit like preparing for the Australian Open. I often go to Melbourne without playing a competitive tournament, just training hard, and I've always played well there.
But amid all the build-up to Wimbledon, it's important to relax too. My girlfriend Kim and I want to see two movies: The Dictator and Will Ferrell's new film Casa de Mi Padre.
I was trying to watch the Dictator during the French Open but it wasn't out when we were in Paris, so that's a priority, as is keeping on top of Euro 2012. I've watched almost every match so far and I'm top of my fantasy football league - so far, so good.
It's also good to spend time with Ivan and nice for him to be in London. Sightseeing isn't really his thing but golf certainly is. It seems the whole time he's not on court, he's on the course.
I haven't played golf for about two years and although I like it, I'm not sure it would be wise to play with Ivan. He's entered a professional tournament before, so I don't think I'd stand much of a chance.
It's great to to unwind but the serious stuff is just around the corner. By the time Wimbledon starts on 25 June, I'll be ready to go.
Visit www.andymurray.com for all the latest news on Andy Murray