Hitting with Roger Federer whets Luke Bambridge's appetite
Last updated on .From the section Tennis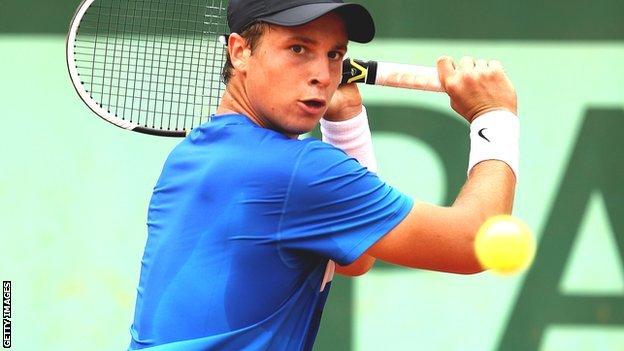 Teenage tennis star Luke Bambridge has already shared a court with one of the game's greats - now he wants to be more than Roger Federer's warm-up guy.
And although he is yet to make the breakthrough at senior level, he has been tipped for a bright future and has already twice knocked up with 16-time Grand Slam champion Federer.
Bambridge's latest meeting with the Swiss came at the French Open earlier this month, and that taste of life at the very top has given him the appetite for more.
"I hit with him at Wimbledon last year and hit with him at Roland Garros this year and it was a great experience," Plumtree-born Bambridge told BBC Radio Nottingham.
"It was before he played Juan Martin del Potro [in the French Open quarter-final]. He was working a few things like slicing to the forehand - it didn't work in the first two sets though. It was probably my fault!"
Bambridge was not fazed by his meeting with Federer.
"It seems intimidating but when you are actually on the court and the way he is - he is very relaxed," Bambridge explained. "He doesn't make it awkward. He is quite chilled.
"I know his coach reasonably well. Paul Annacone used to work for the LTA, so I have an okay relationship with him and he was speaking to me about my tennis.
"When I hit with him [Federer] last time I spoke to him about what he was doing at my age and it wasn't that different.
"He knows my coach so it was easier than it sounds to play with him."
And although Bambridge's attempts to progress through this week's Roehampton qualifiers and reach the main Wimbledon have proved unsuccessful, he is making steady progress and is part of a group of talented youngsters of whom much is expected.
The right-hander, who has been based at the National Tennis Centre in Roehampton for the past 18 months, was beaten by 10th-seed Roberto Bautista-Agut on Monday.
But despite losing to the Spaniard, Bambridge is still eligible to play in the Wimbledon juniors for the next two years.
Leon Smith, the LTA's head of men's and women's tennis, has urged caution despite the visible improvements at junior level in Great Britain.
"It can take years to make the transition out of juniors," Smith has said.
"We have people like Ollie Golding, Liam Broady, George Morgan, Kyle Edmund, Luke Bambridge... it is going to take another three or four years before we start seeing that transition."
Bambridge's coach Martin Weston also acknowledged a step up in class is required, but is in no doubt that a player he taught in Nottingham from the age of eight has the talent, technique and temperament to forge a successful career.
Weston said: "He has always been extremely competitive and has always been extremely skilful and he has improved and worked on the physical side of his game massively.
"He lives and breathes tennis and he wins tight matches. He is an unbelievable fighter; you can have him dead and buried but he will always fight back. These are great qualities to have because tennis is tough.
"You play a lot of matches and tournaments throughout your life and if you cannot take the rough with the smooth then it's tough to have a career, and Luke is very dogged and very tough.
"The prospects are good. He has a big game and is a big lad. He has a decent serve on him. He has a positive future for sure."
Weston believes Bambridge and his contemporaries now just need to test themselves at the higher level.
"We have a good crop of boys in Luke's age group," Weston said. "It is time to give these guys the opportunity to experience the big boys.
"Luke has done very well in the junior ranks so it's time to expose him more and more to men's tennis.
"It's tough. There will be players in that draw with rankings in the 90s and 100s who are proven winners on the Challenger Circuit. It will extremely tough, but a great experience."
Bambridge is ready for the challenge.
"It's a step up going into the men's but hopefully I can make an impact," he said.
"The difference is noticeable, it's big. But from the top juniors to the seniors, it's more a matter of a few points - maybe eight points each set.
"It's the big points and the way they play them. They hit the ball deeper and harder and don't miss as much. If you watch it from the side it would not look crazily different, but when you're on court it is different.
"My game is developing well. What we have right now in British tennis is that there is a good group of us. Everyone is trying to beat each other and make each other better. Hopefully we can have six people in the top 100 one day.
"If I ever want to become a top 100 player - which I do - then I have to get used to this level."