Wimbledon 2012: How success at SW19 can change your life
Last updated on .From the section Tennis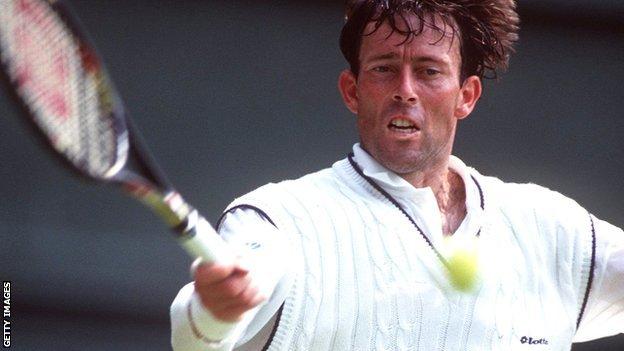 British success on the hallowed turf of Wimbledon can bring untold rewards. A nation's heart can be captured, an unheralded player can become a hero and there are, of course, the financial rewards.
The attention is usually ephemeral, but life changing nevertheless. One victory can fund a career and create memories to be passed down the generations. It is an experience only the few can relate to.
Jeremy Bates still has the newspaper cuttings which picture the former British number one with his bride, Ruth, beaming on their wedding day.
The snaps were taken by the paparazzi who had unexpectedly appeared on his doorstep on that August day 20 years ago. It had been a whirlwind of a summer.
"Nothing was sacred," recalled Bates who, a few weeks before his wedding day, had reached the fourth round of Wimbledon, losing to Frenchman Guy Forget in five sets after squandering match point.
For a nation deprived of tennis success, Bates' efforts were reason aplenty to catapult the then 30-year-old, the only Briton in the men's draw on merit, into the spotlight.
"I had people in my garden, people following me to the bank. How are you supposed to know what to do? You learn quickly," said Bates, winner of mixed doubles titles at Wimbledon in 1987 and the Australian Open in 1991.
"The attention died down and all of a sudden they turned up at my wedding. I didn't mind at all, I just wanted to make sure my wife had a good day. It was completely out of sync with how we grew up."
Bates' moment in the sun came at a time before the Centre Court crowd were razzle-dazzled on an annual basis by either Tim Henman or Andy Murray. There was no Henman Hill back in 1992.
Yet even with Murray, the world number four and a championship contender, now dominating the headlines, editors will gladly devote air time and column inches to an unexpected victory on a pristine patch of grass at SW19.
'Chris Can Rock SW19' emblazoned The Sun on its back pages in 2008 after Chris Eaton, the then world number 661, beat Boris Pashansky in straight sets on a balmy June evening before a capacity crowd on Court Three.
He left the All England Club just before midnight after that first-round win; children excitedly gathered around for his autograph, while sponsors and journalists were clamouring for his time.
"It was nuts," remembers Eaton, whose tale was made all the more enchanting because he drove a Vauxhall Astra with duct tape on one mirror and had a week earlier been playing a Futures Circuit event in Uzbekistan.
"It was a really cool experience, having that attention. It was nice to have that craziness for a while but I don't think that sort of craziness could be dealt with all the time."
Eaton was unable to maintain his form and a few days later lost to Dmitry Tursunov on Court One in the second round, but that one victory has helped fund his lifestyle over the next four years.
"I got a sponsored car for a year or so because the car story was quite at the forefront," said Eaton.
"It's been a way of financing my tennis for quite a while, it was absolutely massive. I'm not sure I'd still be financially able to play had I not done that.
"I do make money, but I still have a little bit of money saved up from that win which is always useful if you have a rough patch because if you don't win you don't earn anything."
The first-round loser at Wimbledon will this year collect £14,500, three thousand more than last year, while one victory is worth £23,125.
For those who spend most of the year competing on the Futures Circuit or the Challenger Tour, it is big bucks.
The money, the attention, the fear of failure, it is why Eaton, who has never received a wildcard and failed to qualify for this year's men's singles, says it can be tough for the Brits, especially the wildcards.
"I know these guys and it's hard for me to hear how they are classed as failing," said Eaton. "It's unrealistic to expect to beat a top-15 player when you're ranked outside the top 200."
Bates talks of a "release of pressure" once the opening match is won but believes that pressure is self-inflicted, while British number one woman Anne Keothavong concedes public expectation is something British players have to learn to deal with.
"It's the biggest tournament in the world and it's on home turf, you've got to take it for what it is," said Keothavong, ranked 77 in the world and in the main draw by right.
"I can only do my best. It's frustrating, but those who understand tennis understand it's not just about Wimbledon."