Wimbledon 2012: Heather Watson optimistic ahead of first round
Last updated on .From the section Tennis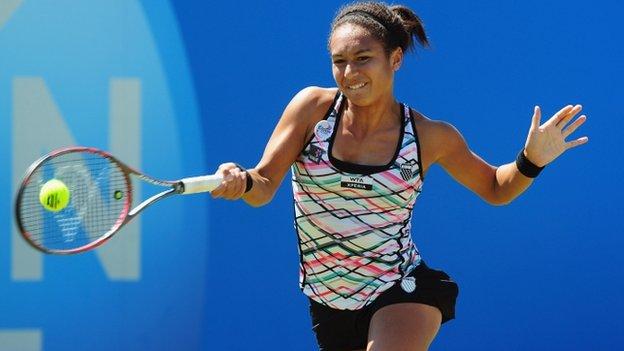 Heather Watson arrives at Wimbledon in confident mood after an encouraging performance at the French Open.
The 20-year-old Briton meets Czech Iveta Benesova, ranked 52 in the world, on Monday as she bids to get past the opening round for the first time.
She took heart from reaching round two at Roland Garros before losing 6-4 6-4 to 25th seed Julia Goerges.
She said: "I was pleased with my Paris run but was still disappointed - I wanted to get further than I did."
Watson, ranked 110 in the world, added: "At Wimbledon I always want to do especially well, because it's at home and on the grass.
"I'm loving the grass. I've had time to get used to it and adapt my game.
"I will take it match by match but hopefully it will take me far."
Along with 18-year-old compatriot Laura Robson, Guernsey-born Watson is at the vanguard of the women's game in Britain.
The bright future they promise to bring to success-starved home fans does create plenty of pressure at Wimbledon though.
But Watson is comfortable with the weight of expectation.
"The only pressure I take is the pressure I put on myself," she said. "That is already quite a bit because I want to do well and believe in myself.
"It's exciting every year at Wimbledon. The atmosphere is amazing - playing in front of the home crowd, they're always great to play in front of."
Watson first came under the spotlight when winning the under-14s British Championship.
Rather than copying many of her counterparts and concentrating solely on tennis, she maintained a relatively normal life.
"I actually went to regular school - that was great for me," she said. "I love school, I have so much fun with my friends there and enjoy learning.
"I was doing that for half a day and the other half a day I would play tennis. That was my dream life.
"I was going to school and playing tennis for the rest of the day until I was 18, then I finished school and went full-time on the circuit and I think going to school has kept me sane.
"I wouldn't have changed that for anything. Now I can focus 100% on my career."
Her commitment to tennis means she misses nights out with friends, but she has no regrets.
"It was a school for athletes and we were all in the same boat," she said.
"A lot of my mates outside of tennis go out and stay up late on the weekends, which tennis players don't do.
"I probably go out once, twice a year but I don't mind it. But when I go out I really enjoy it, I don't take it for granted.
"I'm keeping fit and healthy and playing tennis for a job - I wouldn't change it for anything."