Andy Murray column: Davydenko will be a tough opening opponent
By Andy Murray
British number one
Last updated on .From the section Tennis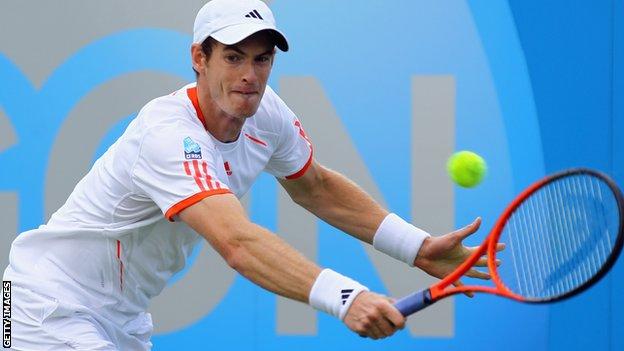 My seventh Wimbledon campaign gets under way on Tuesday and I'm pleased to report that I feel great, training has gone really well and I'm raring to go.
I play Nikolay Davydenko in the first round and I'm fully aware of how tough that is going to be.
He's a top class player, a former world number three with 21 ATP World Tour titles to his name.
Whether it's my toughest opening match at a Grand Slam you never know - I've gone five sets with Gael Monfils, Jo-Wilfried Tsonga and Richard Gasquet before - but in terms of the quality of opposition, I'd say it's definitely up there.
Being back at Wimbledon is fantastic. I come down to practise sometimes as they have decent clay courts, a nice gym and it's always quiet, which is ideal when you just want to be out of the way.
When I train here we tend to eat lunch right next to the door out to Centre Court. It's great to sit out there, look at the empty court, and soak it all up.
Next time I'm there it will be packed, and I can't wait. I'll come in to practise for a couple of hours on Sunday but the next 48 hours are about trying to conserve as much energy as possible.
All my fitness work is complete so I'll just do some yoga, stretching and flexibility work to make sure my muscles are as loose as possible for the start of the tournament.
The idea is to try to spend as little time as necessary at the courts. That's not to compromise my practice but I'll come in, get my tennis done, have physio, a massage and then leave.
I won't be floating around here wasting time - after all, I've got to get home to watch Euro 2012 and work on my Fantasy Football team in the evenings!
On Monday, I'll sit down with my coach Ivan Lendl and hitting-partner Dani Vallverdu, discuss the Davydenko match and analyse the tactics we want to employ.
Ivan will pass on a few little titbits, some of his experience and that will be me all set.
The messages of support from family and friends mean a lot to me. It's been so long since a British player won Wimbledon - and everybody wants to see it - so I get plenty of good wishes and it's a very good source of motivation.
Away from the courts, it's been nice to spend time with my girlfriend Kim. We'll usually get some food in or pop to a local restaurant, although there aren't many good places for sushi, my favourite food, around where we live.
We went out for dinner the other night and the plan was to see a movie too, but they weren't showing either of the two I want to see - The Dictator and Casa de Mi Padre. Instead I've been playing online Golden Eye, it's pretty addictive.
That's also probably why I didn't manage to watch Miami Heat winning the NBA finals. I caught the highlights of their victory over Oklahoma and it's fair to say I was pretty happy.
I started training in Miami in 2007, the year after they won their first ever championship. They had the likes of Shaquille O'Neal and Dwyane Wade, but the following season they all got injured. When I'm out there I go to as many matches as possible, it's a great game to watch live.