Wimbledon 2012: Quotes and stats from day three
Last updated on .From the section Tennis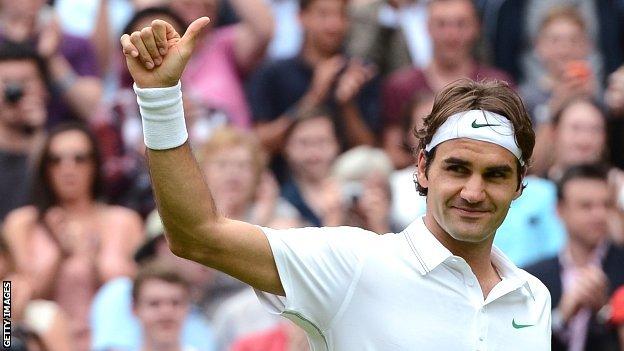 "This whole week I have been sleeping pretty bad. But if I keep playing like this, I don't really mind." Heather Watson, who beat Jamie Lee Hampton to make the third round, hasn't got time for eight hours a night.
"Well, my dad is from Manchester and my mum is from Papua New Guinea, so no." Watson, when asked by a journalist if she has Scottish ancestry because of her name.
"I always bow to Bruce Forsyth." Roger Federer, on how he feels about having to bow to the occupants of the Royal Box.
"The male players spent twice as long on court at Roland Garros [during the recent French Open] as the women. The equality in salaries isn't something that works in sport. Men's tennis remains more attractive than women's tennis at the moment." Men's 13th seed Gilles Simon. Stand by for the backlash...
"Tennis, including the Grand Slams, is aligned with our modern, progressive society when it comes to the principle of equality. I can't believe in this day and age that anyone can still think otherwise." Stacey Allaster, chairman and chief executive of the WTA.
"We are different physiques. I think we earn our money as well. I mean, I was two-and-a-half hours out there today." Women's 14th seed Ana Ivanovic.
"I know good things are around the corner." Seems Ivanovic has brought a periscope with her to SW19.
"I think it is tough for the guys, especially at Wimbledon, because it's five sets. At all the other tournaments I think it should be the same. We play the same amount of sets and have to work just as hard." Watson, who seems to be agreeing with Simon (on the money issue).
"It's just a matter of who believes what, and then that is an endless debate. So whatever you believe." Federer, staying well out of it.
"It was distracting. You usually hear the sound of the ball, but I couldn't really hear it because of her grunting. But that's why we have the hindrance rule." Sabine Lisicki explains her complaints to the umpire during her three-set win over Bojana Jovanovski.
"It's a pretty woeful performance by all of us, but it's not through lack of trying. [It's too soon] to say that we're in this dire straits kind of mode right now." Sam Stosur, the last surviving Aussie, after her second-round defeat by Arantxa Rus.
"This year I hated grass a little bit less than the previous years." Stosur, who has suffered five first-round and four second-round defeats at Wimbledon.