Wimbledon 2012: Selected quotes from day six
Last updated on .From the section Tennis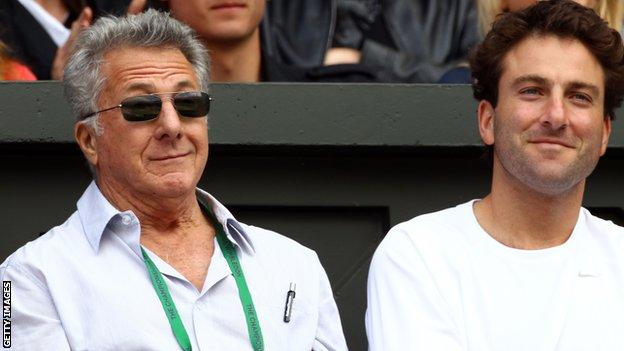 Serena Williams battled her way into the fourth round of Wimbledon with an Oscar-winning actor there to cheer her on.
Elsewhere, Rafael Nadal's conqueror Lukas Rosol went out of Wimbledon, Andy Roddick faces questions about his future and Roger Federer sets another record.
Serena on Dustin Hoffman
"I knew that he would be there," said the American. "I'm a major fan of his. Who isn't a fan of Dustin Hoffman?
"I was honoured to have him in my box. He's invited anytime."
"I haven't had a chance to talk to him yet, but I probably will.
"I don't know him, I just think he's a great actor. That's more than enough. I mean, come on, 'The Graduate' - he's an award winning actor and seems like a great person."
Everybody wants to be a record-breaker
Roger Federer seems to break records almost by the day, so it is not surprising he sometimes struggles to keep track of them.
That was certainly the case with the obscure landmark one journalist discovered he had set in Friday's five-set win over Julien Benneteau.
Federer, according to the intrepid reporter, has now won 5,459 games in Grand Slam tennis, 21 more than Andre Agassi.
That seemed to tickle the Swiss star, who said with tongue firmly in cheek: "You battle out there. Because I knew it. I knew that that record was on the line.
"That's maybe why I couldn't get it going early, because it's such a big record for me. I thought playing longer might make me really break it."
Oblivious Shvedova breezes past landmark
Kazakh wildcard Yaroslava Shvedova became the first player to win a set at a Grand Slam without conceding a point as she rattled off 24 straight rallies to win the opener of her 6-0 6-4 win over Sara Errani in 15 minutes.
She failed to notice though and only realised when told by her coach after the match.
"I was just playing every point and every game. I didn't feel like it was every game was 40-0," she said.
"I was so focused in such a zone. I remember like first or second ball of the second set she won. All the people start to like clap and scream. I was like, 'What's going on?'"
Isner v Mahut mark II?
Marin Cilic and Sam Querry slugged it out for five-and-a-half-hours before the Croat won 17-15 in the final set. Asked whether he was worried it would head into Isner/Mahut's marathon 70-68 final set type of territory, Cilic said with a smile: "No. I didn't want to put that in my head!"
Rosol the celebrity
Lukas Rosol joked that he might soon need a press agent to deal with his new-found status.
The Czech Republic player, who stunned Rafael Nadal in the second round, was the main attraction at the start of play on Saturday, but lost in straight sets to Philipp Kohlschreiber.
"They ask me all these questions," he said. "They call me from Brazil, from this part of world, but also from France.
"I don't have a press agent but I may need one soon. I hope so. I will have to win a couple more matches then I will need one!"
But the 26-year-old believes his victory over Nadal does not have to be a one-off.
"I can play against anyone," he said. "That's what I feel. And also these players now they are going to see they can lose against me."
Kohlschreiber on Rosol's reception
"I think that the crowd wanted to see more of his great game from the fantastic points. Of course, it was a little bit strange if the loser is going to go back to the court. It never happened before.
"But I think it is respect for playing such a great tournament. I don't know if English people really liked him to kick out Nadal. That's maybe what they were also cheering today. I don't know."
Roddick's kiss
Journalists try to find out if Andy Roddick will return to Wimbledon next year after his defeat by David Ferrer.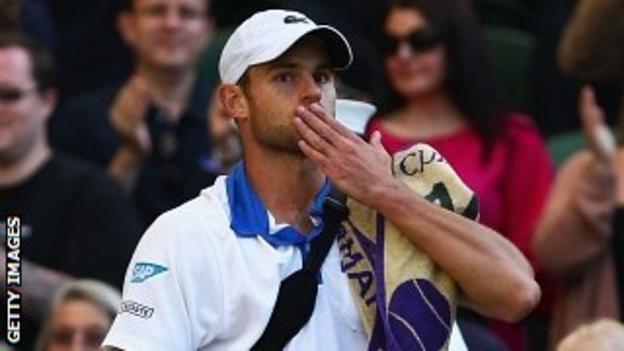 But the American denies that his kiss to the fans as he walked off Centre Court means anything.
"That's just another way of going about it. I understand that journalistic ploy and that's what you're supposed to do.
"I certainly appreciate the softball questions in between, but, again, I don't have an answer for you. I'm not going to be able to give you much else."
Mardy Fish pays tribute to his fellow American: "I think he'll go down as one of the best grass-court players. He could be one of the best grass-court players to never win Wimbledon - three finals, all to Federer. That's unfortunate."
And the row over pay rumbles on
After Gilles Simon's comments that equal prize money does not work in sport, the ladies are keen to get their side of the argument across.
Serena Williams: "I don't deserve less because I have boobs and they don't. That's definitely not the case.
"I definitely know my whole life has been dedicated toward being a top athlete, and I shouldn't get paid less because of my sex.
"The conversation's totally over for me. That was so 2000; this is 2012. Who is still thinking like that, like honestly? Get with the program."
Bethanie Mattek-Sands on Radio 5 live after Serena's win: "The house was packed, what an entertaining match. You couldn't call who would win thematch, that's what makes women's tennis so entertaining.
"It's such an open draw and that's what the fans are really appreciating."