Andy Murray knows he needs to be better to progress at Wimbledon
Last updated on .From the section Tennis120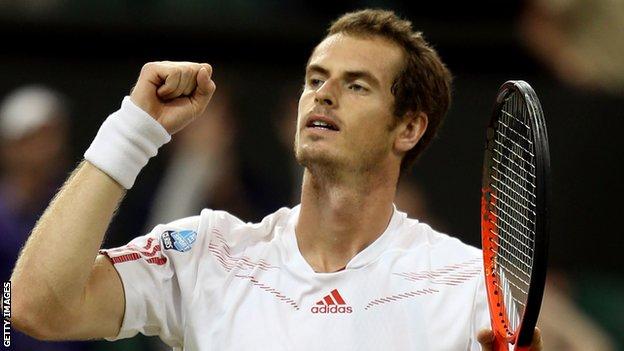 Andy Murray knows he needs to play better if he is to keep alive his hopes of winning his first Grand Slam.
"I was very nervous, I knew it was going to be tough," said Murray.
"I was just kind of hustling my way through the match and I am going to need to play better, if I want to go deep into the tournament."
Speaking to BBC Sport he added: "I was really struggling. Even in the first couple of sets I was creating lots of chances but I was not feeling that comfortable on the court."
As well as struggling with the weather and his opponent, the world number four also found court conditions tricky - taking several tumbles, one of which almost proved costly.
Murray returned to the court after the break, while the roof was closed, with his knee strapped up, fuelling further concerns about his fitness.
"My knee was a little bit sore," he said. "I took a tumble towards the end of the second set, I slipped and my foot went from underneath me and when I cooled down a little bit, when we had the break with the roof, it was a little bit stiff.
"I had the physio work on it and put some tape on it and it was ok.
"I was struggling quite a bit with my footing early on, I changed shoes as well during the break and that helped."
Murray, who faces Marin Cilic in the fourth round on Monday, also experienced problems with his shorts, suffering a two-point penalty because the ball fell out of his pocket during play.
"It's happened before but not like that, it happened like five times in all," he said. "I'm blaming the shorts though, it wasn't my fault.
"It was annoying and it lost me two points so I need to make sure I have no problems with that during the next few rounds."
Following Rafael Nadal's exit from the tournament on Thursday, the pressure has been mounting on Murray to go one step further than he has previously managed in the tournament.
He has reached the semi-finals of Wimbledon for the last three years, losing twice to the Spaniard.
"As a player you are always conscious of what is going on around you in the draw but the draw didn't open up for me," he said.
"The draw opened up for Philipp Kohlschreiber and the guys that are in that part of the draw.
"If I get to the semi-finals then yes that will help, but it's silly for me to think Nadal's out so therefore I am guaranteed a place in the final - that's definitely not the case at all. I have got to keep my head focused on my next match."