Wimbledon 2012: Andy Murray v Marin Cilic analysis
Last updated on .From the section Tennis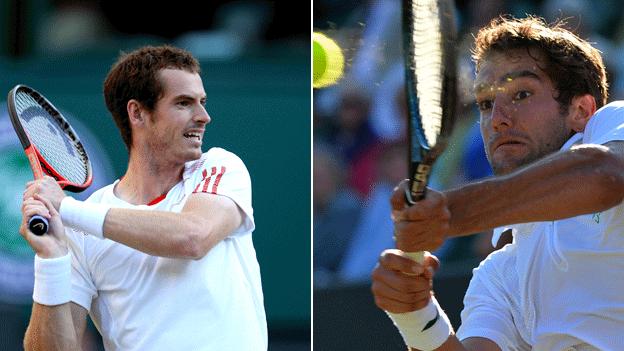 After keeping tennis fans up until after 23:00 BST on Saturday, Murray-mania will strike again on Monday when the British number one takes on world number 18 Marin Cilic.
Murray leads the head-to-head 5-1 and has won the last three meetings, although the most recent at Queen's last year saw Murray advance after Cilic was forced to pull out with a knee injury.
The Scot came into Wimbledon with three consecutive defeats, while his opponent had won his last eight matches, including his walk-over in the final of this year's Queen's after David Nalbandian was disqualified.
Cilic's last win over Murray came in the fourth round of the US Open in 2009. He won 7-5 6-2 6-2 before being beaten in four sets by Juan Martin del Potro in the quarter-final.
BBC Sport analyses their latest encounter, which will take place second on Court One on Monday.
Andy Murray, world number four
"The match I obviously remember well is the one at the Australian Open [in 2010, which Murray won in four sets]. It was a tough match. He was coming into that one after a couple of long five setters, as well, and started the match really well.
"So it will be important for me to try to get off to a good start in the match against him. If you are feeling a little bit tired and you go behind, it can be tough to come back."
Marin Cilic, world number 18
"It's a big challenge to play Andy, especially here at Wimbledon where he is always motivated the most, but hopefully I am going to do well.
"I know how much it definitely means to him, but it also means a lot to me.
"I have to go into the match with positive thinking, that if I do things right, if I do what I'm planning to do in the match, I have to be that way. You can't really go into the match thinking something negative."
Andrew Castle, commentator and former British number one
"This is a match that Murray starts as very heavy favourite to win. Cilic has got a guy down the other end who can nullify pretty much everything he does, so the onus is on him to find a way to come through.
"The only way I think he can is to hit through Murray. He can't defend in the same way as Murray, he's not as agile around the court as Murray. He's going to have to play the aggressor against one of the great defenders.
"It's just a question of whether Cilic can keep holding his serve. If he keeps on holding it, he may get chances towards the end of sets.
"He's a pretty good shot-maker himself, he hits a good ball and no question he's a threat. But you'd have to think that Murray has been pretty well prepared for this match with what's gone on before.
"If it was best of three sets I think Cilic would have a better chance, but over five sets I would pick Murray every time. Murray's in good condition.
"He's got four matches over seven days to win Wimbledon, and Rafael Nadal is no longer standing in his way. What a glorious situation to be in."
Paul Hand, commentator and former professional player
"Murray and Cilic have met at every Grand Slam apart from Wimbledon, so Monday's match is quite momentous. But their head-to-head stands at 5-1 in favour of Murray and that's just one of the reasons why I think the fourth seed will win.
"Cilic is a very good player, he's pretty canny, but he will be very fatigued after that long, tough match against Querrey.
"Emotionally I think that was quite exhausting on him because, having commentated on it, I know it was quite a gruelling battle in that there was no let-up.
"He served for the match at 6-5 in the fifth set but got a little bit tight, and that's one thing with Marin - he occasionally gets a little bit anxious.
"When it comes to the really big moments I don't think he's as good as some of the heavyweight players in the game. That, plus the stature of trying to overhaul Murray on a packed Court One, makes me doubt if he's got it in him, particularly when you consider he's tired and the head-to-head is working against him."
David Felgate, Tim Henman's former coach
"I am always impressed by him at Wimbledon. I think if Andy showed the mental fortitude he shows at Wimbledon all year round then he'd be an even better player.
"Something clicks, he loves being at home, he loves playing at Wimbledon and when he comes into Wimbledon he seems completely focused, even in adversity, and gets the job done.
"I really fancy Andy Murray. I actually think Sam Querrey might have been a slightly tougher opponent because he has got the big serve and can be a bit more consistent off the ground, but Cilic is a dangerous opponent and if he comes out and serves well it will be a tough match."