Wimbledon 2012 quotes of day eight
Last updated on .From the section Tennis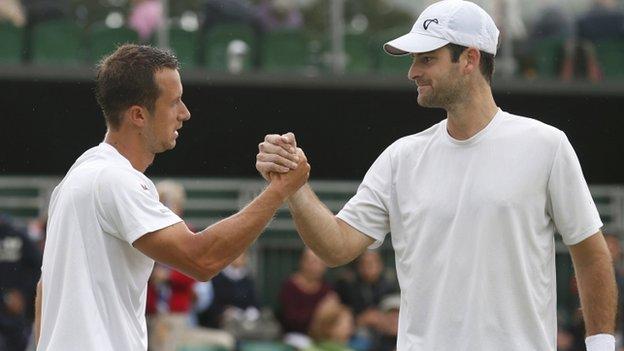 Brian Baker's wonderful experience at Wimbledon came to an end in the fourth round when the US qualifier was defeated in straight sets by Philipp Kohlschreiber of Germany.
The 27-year-old American began his comeback from a six-year absence through injury last year and his tale captured the imagination at SW19.
Baker's 'unbelievable ride'
"If you take the trip as a whole, it's been great. It's been unbelievable," said the man from Nashville.
"I've proven that I can stay healthy playing a lot of matches. Since I've been coming back it's been about the health - and now it's about the game. So that's a good thing. It's been an unbelievable ride.
"I've gained a lot of confidence with my game and proven that I can stay healthy playing a lot of matches. I'm excited to go back home and play on the hard courts and try to get my game in shape for the US Open.
"This year it's been full-time. [But] as far as an endorsement, I haven't signed with an agent yet. It will probably happen very soon, and hopefully those will follow."
Selective amnesia for Kohlschreiber
A journalist asked quarter-finalist Kohlschreiber of his thoughts on Mardy Fish, whom the German would have faced had the 10th seed beaten Jo-Wilfried Tsonga in the fourth round.
"I didn't know that I played him actually," came Kohlschreiber's reply after which the journalist informed the 27th seed that he had beaten the American.
"Really? Normally the player will always remember his victories."
Serena likes to hear balls go whoosh
Serena Williams knocked out defending champion Petra Kvitova 6-3 7-5 in her first match under the Centre Court roof.
"I really like playing indoor. I loved it. I mean, it was amazing for me. There was no elements, no excuses. I loved the sound. It was really cool," said the four-time Wimbledon champion.
"The sound of the balls. It's kind of like a whoosh and a pop. It's almost like a video game but you're playing. It kind of flies through and you hear it when it lands."
Drizzle doesn't bother Mayer
Florian Mayer concluded his rain-interrupted fourth-round match with Richard Gasquet, beating the Frenchman 6-3 6-1 3-6 6-2 to set up a quarter-final meeting with defending champion Novak Djokovic.
"Of course it was cold and windy, but I don't care right now," said the German with a smile.
"I just played incredible. I hit hard. I was going for the shots, hitting long lines with my backhand so it was a perfect match.
"It's an unbelievable feeling for me right now. Eight years ago I was here in the quarters and now eight years later I'm here again. So it's a wonderful dream for me."
German boys try to match the girls
Philipp Kohlschreiber and Florian Mayer reached the last eight to become the first German pair to reach the men's quarter-finals of Wimbledon since 1997.
"Obviously it's really great for all of us. Normally the women are more in the press. They're having the better results. So we're very happy that we at least come closer to them," said Kohlschreiber, who beat Baker 6-1 7-6 (7-4) 6-3.
"Maybe they pushed us in the past. They had such a great success. Of course, now we're very happy that we have two players in the quarter-finals but I hope that at least one will go to the semi-final. That would be really great."