Wimbledon 2012: Andy Murray v David Ferrer analysis
By Ben Dirs
BBC Sport at Wimbledon
Last updated on .From the section Tennis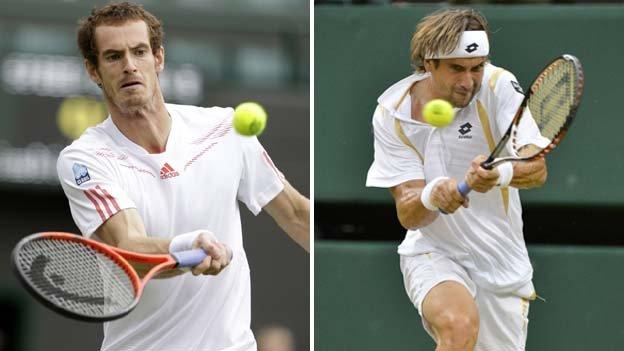 Andy Murray overcame 16th seed Marin Cilic and the Great British weather on Tuesday to secure his fifth straight Wimbledon quarter-final.
Spain's David Ferrer, the seventh seed, is Murray's last-eight opponent, and 'The Roadrunner' is expected to provide sterner opposition.
Ferrer, 30, made only eight unforced errors in beating Juan Martin del Potro in three sets and is one of the toughest operators in the men's game.
Murray and Ferrer have split their 10 previous meetings 5-5, although four of Ferrer's wins were on clay, including in the French Open quarter-finals last month.
BBC Sport analyses their latest encounter, which will take place second on Centre Court on Wednesday.
Andy Murray, fourth seed
"To me he [Ferrer] is not a clay-court specialist. He won last week on grass [in 's-Hertogenbosch], he's been in the semi-finals of the Australian and US Opens. This year he's playing the best tennis of his career, he's playing very well.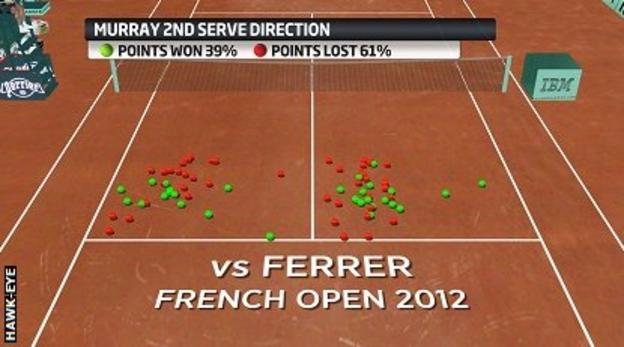 "If I had to pick which courts to play him on, I'd rather not play him on a clay court because it's a surface that I've struggled against him on.
"But on the other surfaces I've played some good matches against him. Tough matches, but good. I've won against him a few times. Hopefully I can do the same again.
"The one thing a lot of players struggle with, if they're used to playing on other surfaces, is the movement [on grass]. But I saw a bit of his match with Andy Roddick a few days ago and he seemed like he was moving better than in the past.
"For both of us the return is one of the stronger parts of our games. If I serve like I did at the end of the second set and the third set [against Cilic], it doesn't matter how well someone's returning, because if you hit a serve close to the line on grass, you can't get there."
David Ferrer, seventh seed
"Maybe my return is my best weapon on a grass court, because on a grass court I don't really have power with my serve. But I am playing very good with my return.
"Maybe he has more pressure than me because he plays at home with your people.
"He's the favourite player [to win] because he's better than me. I will try to do my best but I will have to play my best tennis to beat him."
Tim Henman, BBC pundit and four-time Wimbledon semi-finalist
"I was very impressed with Murray against Cilic. He knew the rain was imminent, it made him play more aggressively and that was a really good sign. It was another step in the right direction.
"Murray played like he wanted to go out and win it and when he is proactive and aggressive, that's when he plays his best tennis.
"The matches are only going to get harder and that was a hell of a performance by Ferrer, beating Del Potro so comfortably. Ferrer is so impressive, the way he maximises what he's got.
"His style is relentless and he never deviates from his game-plan, which is pretty simple: he competes as hard as anyone, he's a great athlete and he hits the ball as hard as he can from the baseline.
"But I think Murray has got too much game for him. Ferrer is so comfortable on clay, with the sliding and everything else, but his footwork is not as effective on a grass court.
"It's also harder to defend on a grass court and Murray will probably get more free points on his serve and more chance of dominating the rallies.
"However, it's about striking a balance: with Ferrer's fighting spirit, you're not just going to be able to hit through him, so it's about controlled aggression.
"I feel confident Murray will come through, probably in four sets."
John Lloyd, BBC pundit and former British number one
"Ferrer is a human backboard, he gets the ball back over and over again in nasty places. Murray will have to be very shrewd with his tactics, he's got to take the ball on against Ferrer but pick the right time to go for it.
"That last set and a half against Cilic, Murray was back to playing the way he did against Nikolay Davydenko in the first round. He was very aggressive, his tactics were good, he was taking the ball on. He's peaking at the right time, the second week's starting and he's gone up a level.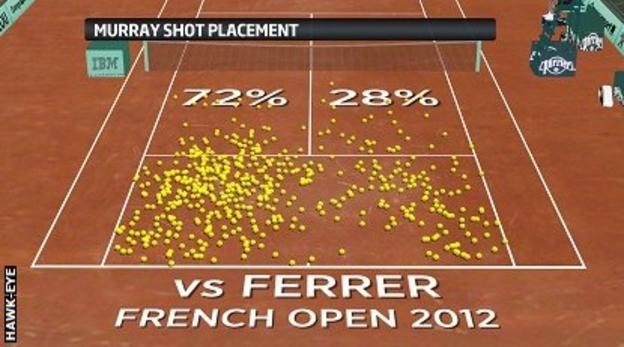 "Murray's length's got to be good because Ferrer's forehand can take over, and he has got to make sure he attacks Ferrer's second serve, the Spaniard's delivery is not as strong as Cilic.
"But it's not as simple as just being aggressive, you've got to pick the right points to go for it. He had the balance perfect against Cilic, although you can't compare Cilic to Ferrer because Ferrer moves 10 times better and balls are going to come back a lot more.
"However, if Murray can get something like 68% of his first serves in [as he did against Cilic] he will have a lot of opportunities to get ahead in the rally and Murray will be able to get the ball away from Ferrer on grass.
"Murray will be able to get aggressive on points earlier on grass and his slice backhand could be very effective. I think Murray will take him but it will be a very tough match."