Andy Murray must be more aggressive, says Rod Laver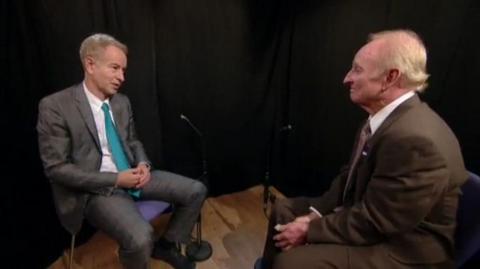 WIMBLEDON
Venue:

All England Club, London

Date:

25 June - 8 July

Coverage:

Live on BBC One, BBC Two, BBC HD Channel, Red Button, BBC Radio 5 live, mobiles, tablet and the BBC Sport website. Men's and women's singles finals in 3D on BBC HD Channel.
Andy Murray must be more aggressive and proactive if he wants to end Britain's 76-year wait for a male Grand Slam champion, says tennis legend Rod Laver.
The Scot has made the Wimbledon semi-finals for a fourth time but has yet to win one of the sport's biggest prizes.
"He plays a safe game a little bit too long," Laver told John McEnroe in an exclusive BBC Sport interview.
"That allows an opponent to be more aggressive, rather than continually putting pressure on an opponent."
Laver is the only man in the Open era to win all four major trophies in a calendar year and captured a record 200 singles titles.
World number four Murray, 25, has reached three Grand Slam finals - losing them all - and contested a further six semi-finals.
"You've got to keep hitting the ball hard rather than just floating it back," Laver, an 11-time Grand Slam champion, explained. "You're giving your opponent a breather.
"Murray gets in a position where he's maybe up a break or in a position to win a game, and he just plays it back. That's when you put your foot down and make sure you win that point so you get either two breaks or you get a break back.
"That's the one thing I think maybe he's missing, being able to say 'I've got to win this point' or 'I've got to break serve here' or 'If I get a chance I'm not just going to play it back, I'm going to be aggressive'."
The three men above Murray in the rankings - Novak Djokovic, Rafael Nadal and Roger Federer - have won 28 of the last 29 Grand Slam tournaments.
If that was not difficult enough for the Scot, Laver believes Federer is the greatest player in tennis history, with Nadal a close second.
"Roger Federer certainly is my claim to be the best of all time if there is such a thing," said the 73-year-old Australian.
"Roger's got all the shots, his anticipation is unbelievable, his timing off the groundstrokes with his shots, his single-handed backhand is one of the best there is.
"But at the same time, I look at Rafa Nadal and what he's done to win seven French Open titles and Wimbledon. Being able to play with somewhat of a suspect knee, his way of motoring around the court and tracking shots down is quite uncanny.
"They're very close. Are they great champions and do they have equal abilities? I'd say 'yes', they're pretty much equal."