Wimbledon 2012: Djokovic & Federer 'feel good' ahead of semi
Last updated on .From the section Tennis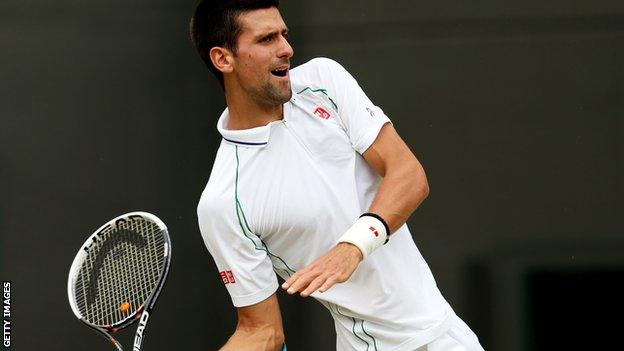 Six-time winner Roger Federer and current champion Novak Djokovic will meet in the Wimbledon semi-finals on Friday.
They have met 26 times in all, with Federer winning 14, and both predict an "interesting" battle in what will be their first encounter on grass.
Federer feeling good
Federer does not believe he will need to adapt his gameplan because of the surface.
"Obviously things are not that drastic of a change anymore from clay, hard court, indoor to grass. But it is interesting that this is our first grass-court match. I'm looking forward to it," said Federer.
"I'm just happy that I'm around further than I've been the last couple years so it's been a good tournament so far for me. I'm happy, I'm feeling good again. It gives me confidence going into a big match against Novak.
"I know I'm playing really well. It's a question of confidence and a question of playing a lot of tennis on grass over the years for me.
"I think I've played over 100 matches on grass now, so I know how it works but it is obviously slowing down. I still believe the aggressive player can be rewarded if he plays the right way."
'No issues' with world number one
The 16-time grand slam champion clashed with Serbia's Djokovic six years ago when Federer accused him of feigning an injury while playing against the Swiss star's compatriot Stanislas Wawrinka in the Davis Cup.
"I was just upset at him calling the trainer out for no obvious reason against my buddy, Stan, in a five-setter," said the third seed.
"That was it. We had a quick chat about it in Madrid after that and things are cool [for] a long time between me and him. I've always respected him.
"Have I gone out for dinner with him? No. But I've had many meetings with him at the [players'] council, and then now with the Grand Slams. I have no issues with him, and I hope you believe me."
Djokovic wary of 'smart' Federer
Defending champion Djokovic believes grass is more suited to Federer's aggressive style of play, but says he is "feeling good" about playing the former champion on the surface.
"He has a variety, great variety, in his game. He opens up the court and uses that slice really well to get the balls to bounce low. He's very aggressive at times and he can defend well," said Djokovic of his last-four opponent.
"Grass courts are suiting his style of game the most so it's going to be an interesting match - maybe he uses the grass court better because of that slice.
"He has a really smart game for this surface but I've improved playing on grass in the last couple of years.
"I won the title here last year, got to another semi-final this year, so I'm feeling good about myself on the court. I really have nothing to lose."
No psychological advantage for Djokovic
The top seed has beaten Federer in six of their last seven matches, the most recent of which was a straight-sets win in the semi-finals of the French Open.
"Most of our matches that we play against each other are very close. Very few points decide the winner," said the Serb.
"I won two years in a row against him with match points down so I can't really say I've been winning comfortably those matches. That's what I expect in the next one, as well.
"He has won the most Grand Slams in history. He's rated probably as the best player in history. He has won everything that a tennis player can win and he's coming back for more.
"He has a lot of respect from me, from all the players, there is no question about it but we are all rivals, we are all opponents. I don't think about his history or his success too much when I'm on the court. I just want to win that match."