Wimbledon 2012: Serena Williams v Agnieszka Radwanska analysis
By Aimee Lewis
BBC Sport at Wimbledon
Last updated on .From the section Tennis
Agnieszka Radwanska will become the first Polish player to win a Grand Slam should she triumph at Wimbledon on Saturday but blocking her path is four-time champion Serena Williams.
John McEnroe described the 30-year-old's performance as "the best exhibition of serving I have ever seen".
The 13-time Grand Slam champion has beaten Radwanska in straight sets in their only two previous encounters, with one of those victories coming during the quarter-finals at Wimbledon four years ago.
BBC Sport analyses whether 23-year-old Radwanska, who would become world number one if she wins, can stop Williams clinching a record-equalling fifth Wimbledon title.
Serena Williams, sixth seed
"It's the Wimbledon final, I don't know any other way to come out except my best.
"Radwanska has been playing well. She's been consistent this year, more consistent than I have. That already tells me I really need to go out there and be ready to hit a lot of shots and be ready to play hard.
"She has great hands and does everything so well. If I come out flat, I won't win. If I try to do too much overpowering, I can be led to a lot of errors.
"My biggest challenge is that Agnieszka is good at everything. She's ranked ahead of me, so I think it will be a good match."
Agnieszka Radwanska, third seed
"We have played a couple of times a long time ago. It is going to be another challenge, especially here on grass.
"She's playing amazing tennis at the moment. I don't really have much to lose, so I'm going to try my best and we'll see.
"Everyone dreams when they are a kid about becoming number one so I'm very happy to have a chance to play for the top ranking, but there is still one very tough match to go."
Virginia Wade, former Wimbledon champion
"If Serena plays as well as she's been playing then I'm afraid it will be a little one sided.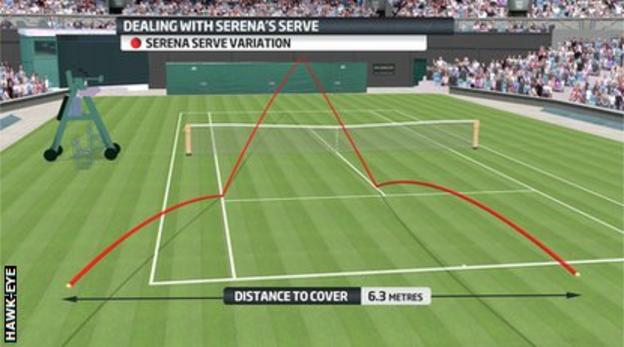 "However, Radwanska is somebody I really like to watch because she's one of the few players who has to make up for her lack of power with her brain.
"She's such a smart player, moves the ball around really well and has phenomenal anticipation. If Serena gets a little nervous, and there's a small possibility that might happen, Radwanska might be in the match.
"I really have a lot of time for the way Radwanska plays but she's going to have her work cut out because of the sheer brute force Serena has.
"Serena's serve is just incredible. I always think that all the other players should go out and try to copy it because it's such a good motion and she can serve any serve to any part of the court.
"Obviously if she gets a little bit tight it might not be as dominating so Radwanska really has to fight to get into the match early.
"I'm not so worried about the fact that Serena's going to win her serve, but if Radwanska doesn't serve well Serena is just going to thump the returns."
Lindsay Davenport, former world number one
"Serena's been amazing. She played great against Petra Kvitova [in the quarter-final] and played better against Victoria Azarenka [in the semi-final].
"She's been standing on the baseline and that sends a message to your opponent that you're going to be aggressive from the start, it puts pressure on them visually, as a server you become nervous.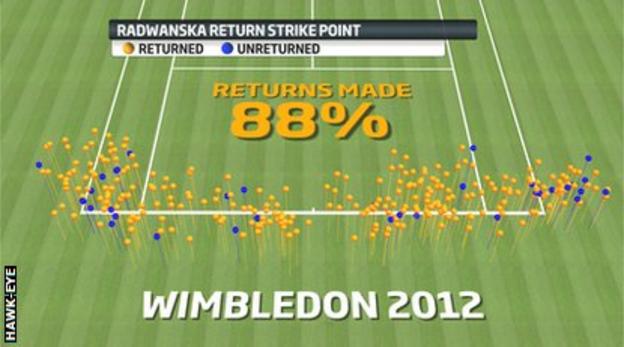 "Serena's going to make Radwanska feel her presence. She spent her whole life trying to return Venus's serve.
"Radwanska's going to have to use all her spins, all her slices, shorts balls and change the pace so Serena doesn't get rhythm and she can do that by getting a lot of first serves in.
"If Serena is facing a lot of second serves for the majority of the match then it's not going to last long, she's way too good of a returner.
"Radwanska is also going to have to focus on her depth.
"She can't leave balls short in the court. Radwanska has to play good defence, get as many balls back in the court as possible."