Wimbledon 2012: Tim Henman on Andy Murray

Last updated on .From the section Tennis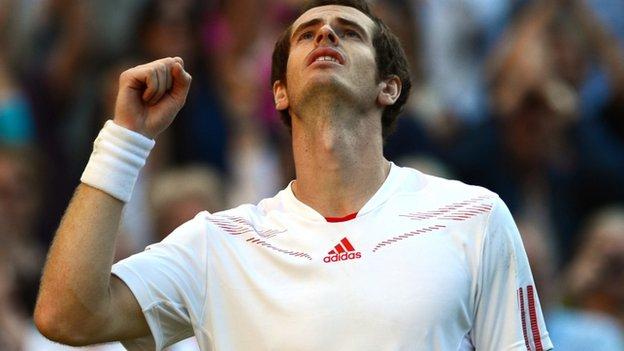 With all due respect, I've heard Fred Perry and Bunny Austin's names mentioned enough. Now Andy Murray's got one monkey off the nation's back by becoming Britain's first male singles finalist in 74 years, it's his chance to kill two birds with one stone.
It was almost as if the first two sets were too good to be true, it could not have gone any better. Tsonga wasn't playing his best but he wasn't allowed to play his best.
Murray played really clinical tennis and it was 6-3 6-4 in under the time he played one set against David Ferrer in the quarter-finals.
The Frenchman wasn't serving so well, was missing lots of backhands and didn't win a point on his second serve in the second set. Meanwhile, Murray was making hardly any unforced errors.
But you knew that, being 74 years since a British man last reached a Wimbledon final, it wasn't all going to be plain sailing. Which makes you wonder, who's writing Andy Murray's scripts?
He played a poor game at the beginning of the third set and Tsonga took heart from that, threw caution to the wind and suddenly it got uncomfortable for Murray.
Tsonga's backhand is hot and cold, but when he started stepping in and crunching it in the third set, it suddenly looked a pretty good shot. His backhand sums him up, he's just very difficult to predict.
But Murray was so resilient at the end to find a way to get through in four sets. First and foremost it was a massive relief for him but also a relief for millions of other Brits. I just hope he's got enough physical and emotional energy left.
Murray's done such a good job of maintaining his focus and staying mentally strong and he's going to have to be on song for one last match, Sunday's final against Roger Federer.
It was vintage Federer against defending champion Novak Djokovic in the other semi-final.
I felt Djokovic was the favourite for the tournament and the favourite for that match, but you can never write off someone with Federer's record, it was an incredible performance.
He was so aggressive with the forehand and that's something Murray's going to have to watch out for. He can't afford to leave the ball in the middle of the court because Federer will make him do a lot of running.
It's another big, big task for Murray. He's obviously lost to Federer in Grand Slam finals before, at the US Open in 2008 and the Australian Open in 2010, and he's lost all three he's played in total without winning a set. So it's crucial Murray gets off to a good start.
But Andy will like the match-up with Roger and if he can get to Federer's backhand, of course he has a chance.
That said, Federer knows this court better than anyone and is a six-time champion. He'll be relishing another Wimbledon final, just as Murray is certainly relishing his first.
For the next two days, it's more of the same for Murray. The focus and the attention will be so intense and Murray will have to make sure he keeps his head down. And doesn't read any papers.