Wimbledon 2012: How Andy Murray can beat Roger Federer
By David Ornstein
BBC Sport at Wimbledon
Last updated on .From the section Tennis
Andy Murray will carry the hopes of a nation when he faces Roger Federer in Sunday's Wimbledon final.
But their only previous meetings at a major - the 2008 US Open and 2010 Australian Open finals - went the way of Swiss legend Federer.
BBC Sport analyses how 25-year-old Murray can reverse that trend and take a step no compatriot has managed in 76 years.
How does Murray win?
Brad Gilbert, Murray's former coach: "Forehand, return and serve - the three areas in which Murray must excel if he is to beat Federer. It's crucial he plays aggressive and continues to show a positive attitude."
John Lloyd, former Davis Cup captain: "If Andy continues to get balls back at the rate he has done all fortnight he will put Federer in such awkward positions that, over five sets, the Swiss can be ground down."
Talking tactics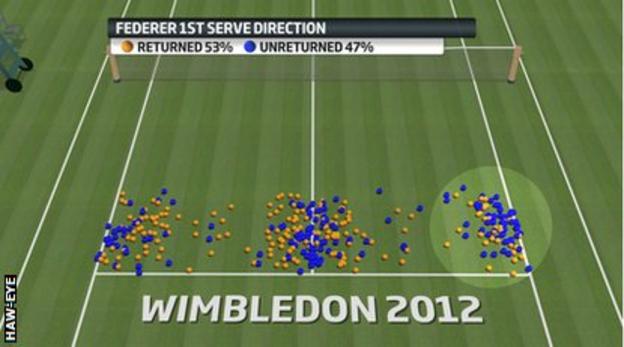 Tim Henman, four-time Wimbledon semi-finalist: "There's a four-square-metre danger zone in the middle of the court where Federer will dispatch anything. Andy must keep the ball out of that zone and if he does it aggressively, Federer will struggle to dictate. Keeping the ball deep can frustrate the Swiss and will eventually see him move closer to the baseline, take some risks and possibly make more unforced errors."
Mark Petchey, Murray's former coach: "It's crucial that Andy starts well. In each of his previous Grand Slam finals - the 2008 US Open and the 2010 and 2011 Australian Opens - he started poorly and went on to lose in straight sets. Repeat that against Federer and it's a long road back."
Dominating on serve
Brad Gilbert: "Murray is the tournament leader for points won on the second serve. In a big match at the business end of a tournament, you'll find the player who wins more points on their second delivery tends to win the match."
Mark Petchey: "Andy has been brilliant on his second serve but it might not be possible against a returner of Federer's calibre. The 16-time Grand Slam champion is not going to let him off the hook like Jo-Wilfried Tsonga did. The best solution is for Murray to nail his first serves and if he lands anything upwards of 55% on both deliveries he'll stand a great chance."
Murray's potent backhand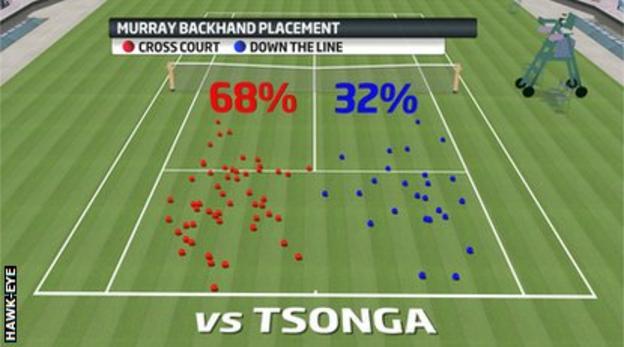 Todd Martin, former world number four: "Murray needs to have an answer to Federer's sliced cross-court backhand. Federer with that very shot. Murray can succeed by being disciplined and not trying to make too much happen until the ball is hittable. But he should try to keep Federer on his backhand because there's a greater chance of errors coming from his backhand than his forehand."
John Lloyd: "Few players utilise the sliced backhand on grass like Murray. Theirs doesn't go through the court, it doesn't get enough bite and it actually sits up. Murray has the inside-out one that swerves away with sidespin and the cross-court one which stays low and is not easy to hit. A key shot."
Battle of the forehands
Mark Petchey: "You could argue that Murray's forehand down the line is his most important shot going into the final. It probably isn't his favourite shot, but if he can hit it affectively Federer will be drawn wide on his backhand side and that will open space for his magnificent cross-court forehand."
John Lloyd: "The Federer money shot is his forehand and he likes to guard that area around the middle of the backhand side so he can run round and hit the forehand. But if Murray can belt that backhand down the line and pull his opponent wide, the Scot can take over the rally and switch play over to Federer's marginally weaker backhand."
Managing the occasion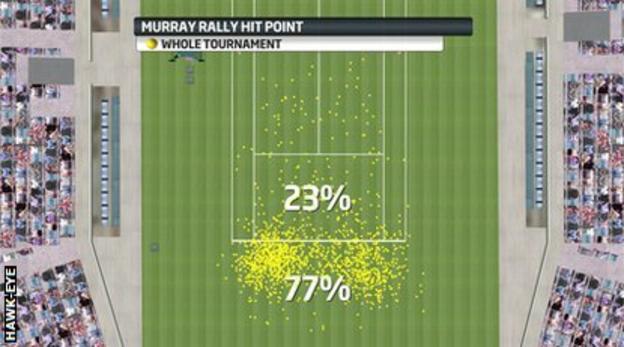 Tim Henman: "This is a classic example of focusing on the process rather than the outcome. It's the biggest match of Andy's life and if he can concentrate purely on his gameplan and play point by point, anything is possible."
Mark Petchey: "We can talk backhands, forehands, serves and strategy - but first and foremost this is the biggest occasion of Murray's tennis life against arguably the greatest champion the game has ever seen. How will he react? That's one thing we can't predict."
Todd Martin: "I do believe Roger has a slight advantage, but it's been a while since he won and I'm sure there's a bit of self-doubt in there. It's critical Murray keeps his calm and avoids the ebbs and flows. If he's focused for the duration, he's going to have a hard time being beaten."
John Lloyd: "Emotion could prove the most important factor of the lot. Federer might get off to a flyer but Murray can't panic. It's five sets, embrace the situation. His coach Ivan Lendl has been there and done it. His words of wisdom could have an untold effect."