Andy Murray: Wimbledon final defeat Twitter reaction
Last updated on .From the section Tennis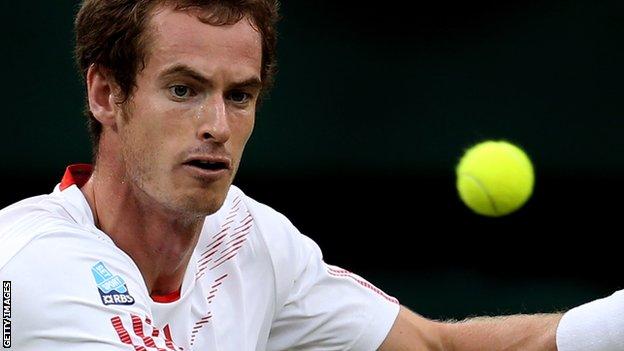 Andy Murray has been praised by a host of celebrities after his brave defeat by Roger Federer in the Wimbledon final.
It wasn't just the manner of the loss, where the 25-year-old played some superb tennis against one of the sport's all-time greats, that provoked a generous response.
His emotional and graceful speech on court following Federer's 4-6 7-5 6-3 6-4 victory also had personalities expressing their admiration via Twitter.
Former England striker Gary Lineker wrote: "Another one bites the grass! Just think though, how much more exciting it will be when Murray wins next year?"
"Brilliant win, Federer - back to his best. Well played Murray, your time will come," said Piers Morgan, who added: "Never accuse Murray of being unemotional again. He gave it everything he's got. Proud of him."
"Great final. Murray can hold his head high. Beaten by a legend," said former England international Michael Owen.
Also from the football world, Fabrice Muamba said: "Give credit when is due, Federer played very well. Well played Murray."
Both finalists were praised by golfer Tiger Woods. "Hats off to Murray for a great fight. But we saw why Fed is the greatest of all time," he said.
Actor Ewan McGregor summed up the feelings of many by saying: "Bravo Andy Murray. What an achievement. The Wimbledon finals. You played so well and made us all so very proud. Well done."
Trainspotting author Irvine Welsh also put Murray's performance into historical context: "Well done Andy Murray, you did us proud son. Best ever performance by a British player in a major tourney since Fred Perry."
Model Karen Elson said: "Federer won but kudos to Murray for giving it his all!"
"Well done Andy Murray no disgrace losing to the best that ever played tennis....great final to have been present at" said Manchester United and England footballer Rio Ferdinand.
Ed Miliband, leader of the Labour Party, hailed Murray's battling performance: "Andy Murray put up an incredibly brave fight. He should be proud of his performance and the country will be too."
Federer graciously stated that he feels Murray will Wimbledon one day, a thought shared by golfer Rory McIlroy. "Andy Murray did himself, his family and his nation proud today. Played like a champ. His time will come for sure!"
"Andy Murray - lost a match and won the heart of a nation," said author Tony Parsons.
Former WWE wrestling champion John Layfield echoed Parsons and many: "Andy Murray just won over the entire UK and the world with that heartfelt speech. Well done and Scotland should be proud!"
"Federer, all hail, seventh Wimbledon championship. Andy Murray, you are a champion in my eyes, one day mate it will be you." - actor Russell Crowe.
Joey Barton had his say and was full of praise for Murray's gallant display. "Murray unlucky there. Tried his best. Just ran into a tennis legend. Showed afterwards how much it meant to him, didn't half feel for him."