Rafael Nadal has pulled out of the US Open through injury
Last updated on .From the section Tennis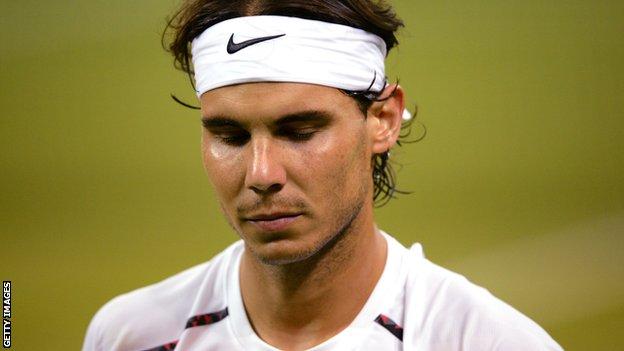 World number three Rafael Nadal has pulled out of the US Open after failing to recover from a knee injury.
He was then forced to pull out of the London 2012 Olympics with the injury, which has since failed to clear up.
"I am very sad to announce that I am still not ready to play," said Nadal in a statement.
He added: "I am sorry since I always found great crowds and great support, but I have to continue with my recuperation and preparation to be ready to play in the right conditions.
"I want to say hi and thanks to all the fans, in particular to the New Yorkers. I'll miss you all this year at the Open!"
Following his defeat to Rosol, Nadal said he was happy with his form, saying: "You win, you lose. The last four months were probably the best of my career. I just played an inspired opponent."
He also admitted he was looking forward to a rest before the start of the Olympics, where he was preparing to defend the gold medal he had won in Beijing.
Nadal has a history of knee problems, with tendonitis ruling him out for much of the 2009 season and more recently forcing him to withdraw from a charity match against Novak Djokovic on 14 July.
"Doctors have been checking my knee, and I suffer a tendonitis which will have me away from any practice or matches for 15 days, which makes it impossible to play with Novak Djokovic as we'd expected and announced," he said at the time.
"I was with my doctors on Monday and started already my treatment with the goal to be ready for the London Olympic Games and represent Spain once again."
Five days later he was forced to pull out of the event at Wimbledon, citing the fact he was not in the right "condition".
"I do not find myself in a condition to compete," he said. "It is one of the saddest moments of my career."
The US Open, which Nadal won in 2010, starts on 27 August.